August 15, 2014
Tony DiGiovanni CHT
LO executive director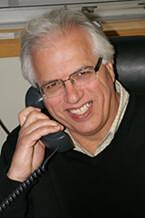 A friend and I were talking about an organization that had drastically changed for the worst when their President retired. At one time the business was thriving. Employee morale was high. Now there was apprehension and unhappiness.
I have witnessed this phenomena many times. During high school I had a part-time job as a grocery clerk at the neighbourhood supermarket. The store changed managers frequently. It was amazing how many different leadership styles there were. There was the dictatorial tyrant who incited fear. He commanded his staff as if they were soldiers in a battle. There was the reluctant leader who could not make a decision and spent most of his time in the office. There was the collaborative boss who wanted to be everyone's friend. There was the visionary who made everyone feel they were part of something bigger. Some went out of their way to challenge and nurture their staff. Others could not care less. In every case the leader had a huge effect on the "feel" and effectiveness of the organization. Some inspired loyalty and motivated staff to do their best. Others incited fear and loathing and made you want to quit.
In recent years I have seen struggling companies thrive when they are sold. Other organizations that traditionally have trouble recruiting and keeping staff suddenly becomes a magnet for talent as soon as their leadership changes. We see this same type of thing with sports teams, churches and political parties. Leadership seems to matter a lot.
So, what is the difference?
This is a complex question. There are libraries and institutes devoted to the question of leadership. It some ways it's also a simple one.
In my role, I get to witness leadership in action every day. Here are some leadership attributes that are easy to discern through observation.
Leaders care. They treat their family, friends, customers, employees and suppliers with respect. They are continually striving to be better. They want to make a positive difference. They care about others success as well as their own.
Leaders have vision. They see beyond themselves. They are able to communicate a vision of a future that is better when people work together for a common cause. They realize that it more about people than things. They are working toward enhancing lives.
Leaders are action oriented. They don't sit still. They set goals. They develop plans. They communicate the plans in a way that inspires collective effort.
Leaders are trusting and trustworthy. They see the best in others. They say what they mean and mean what they say. They don't gossip. They seek to help. They are builders. They trust others to find their own way.
Leaders are good communicators and listeners. They have the pulse on what is going on in the organization. They communicate through their actions as well as their words.
Leaders are fair. They treat people well. Tough decisions are made respectfully. They are empathetic.
Leaders are peace makers. They try to turn conflict into collaboration.
Leaders are competent. They are always looking at better ways to do things. They learn from others.
Leaders inspire. They are able to mobilize, motivate and inspire others. They are able to communicate a higher purpose.
Leaders serve. A good leader is not selfish. Their role is to nurture, support and help.
This is a short list of leadership attributes identified through observation. Most of you would probably agree with this list. The list is sobering. It reflects an awesome responsibility for those of us in leadership positions.
One of my favourite sayings is: "Leadership is a choice-not a position". All of us have an opportunity to demonstrate good leadership and make a huge difference in our organizations whether we have a formal title or not.
---
Tony DiGiovanni may be reached at
tony@landscapeontario.com
.