November 15, 2014
Where are your membership dollars going?
By Myscha Burton
Membership and Chapter Coordinator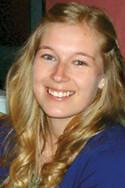 We've nearly done it. We have managed to visit members in eight out of our nine chapters so far. Don't worry Windsor, Denis and I are coming for you!
Denis Flanagan and I had the pleasure of visiting some of our Golden Horseshoe members with chapter coordinator Lee Rozon. Despite some drizzly weather, we had a great day, and once again, I was amazed at the connections between the horse world and the horticulture industry.
First stop
Our first stop of the day took us to see Tim Cruickshanks of Cruickshanks Property Services in Dundas. He was in the midst of giving his childhood home a makeover.

Barry Hordyk of Shademaster Landscaping took us on a tour of South Burlington to two great sites his crews were working on.

We then visited Alan White at Turf Systems, also in Burlington. This stop had the unexpected surprise of visiting some immaculate horse farms, and wouldn't you know it, Alan is responsible for the turf at the top local horse show venues. Our thanks to Alan for providing safe footing and picturesque grounds for the horses.

Goal is to embody mission
Now that renewal invoices have been sent out, I have had some calls asking about the membership fee and where dollars are going. It's something I would like to shed some light on.

The goal of membership services is to embody the mission of LO, "To represent, promote and foster the advancement of the horticulture industry in Ontario, and to enhance lives." I'll use Simon Sinek's book Start with Why. Your membership dues and your participation within LO are all part of how we embody starting with 'why' and turn it into 'how' through services such as:
CNLA endorsed suppliers
Landscape Ontario publications
Educational and professional development opportunities
Future developments; apprenticeship, scholarship etc.
Human resources
Public relations and advocacy
Community projects, LO press promotions, Canada Blooms, trade shows, etc.
Sector Groups
Chapter funding
Now, what does that mean?
A percentage of your membership fee goes to CNLA to assist with the endorsed supplier program that brings you great discounts on things like vehicles, gas cards, equipment, clothing, and banking and insurance programs. Each month we receive a usage report, which outlines how the endorsed supplier programs are being utilized.
To give you some perspective on the ways in which these programs are essentially being underutilized, out of over 2,000 companies eligible for these benefits, in September, only 71 used the endorsed supplier benefits program. The majority of these were for vehicle discounts.
But there is so much more available to you! We have these programs here to assist you and your business, and also to save you money. Your membership expense can easily be recuperated through these programs alone, so I encourage you to have a look at the list of endorsed suppliers on
horttrades.com/endorsedsuppliers
, or you can contact CNLA directly for detailed information.
A portion of your membership goes toward Landscape Ontario publications, including
Landscape Ontario
magazine,
Landscape Trades
, e-news and
Source Book
. These resources are here for you and your staff, to help you stay up-to-date with all things LO, and the larger horticulture industry.
A good portion of membership dollars are allocated to supplementing educational and professional development opportunities, which include seminars and certification programs. This embodies Landscape Ontario's commitment to educate and foster the professional development of its members, as well as that of the future industry. By allocating a portion of membership dollars to these programs, Landscape Ontario can continue to offer great speakers and continue to provide education and training opportunities, while also fostering the development of the future generation of industry leaders.
Chapter funding
Sector Group funding is implemented to assist with events and education specific to each sector. Similarly, chapter funding refers to dollars allocated to assist with meetings. Each chapter receives the same amount of funding per meeting, based on five meetings per year. Chapter funding also refers to monies allocated to each chapter according to the number of members to ensure fairness across the association. This is where your attendance at chapter meetings is key. It attests to the value of the Chapter Challenge.
To refresh your memory on the Challenge, chapters that increase membership by five per cent will receive $500, and the chapter that increases its membership by the highest percentage will receive an additional $500, as well as the coveted Golden Grout Award.
Annual Reports
For detailed cost breakdowns of where money is allocated, have a look at the annual reports, which are featured in every December issue
Landscape Ontario
magazine, and online at
horttrades.com/annual-reports
.
I encourage you to mark your calendars for some upcoming chapter meetings and social events, and share in all that LO has to offer.
---
Contact
Myscha Burton
with your questions about LO member benefits.