August 15, 2009
Why are you a member of Landscape Ontario?
Tony DiGiovanni CHT
LO Executive Director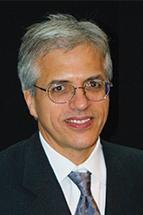 A new membership recruitment committee, chaired by Warren Patterson, is putting together a plan for this year's membership drive. Recently, the committee reviewed a membership satisfaction survey we hosted in 2006. It will be used to clarify and articulate the benefits and values of belong to an association, such as Landscape Ontario, to prospective new members.
The summary is worth revisiting. Here are eight main benefits of membership. The percentages reflect their importance.
Education/professional development, 92 per cent: Educational opportunities are highly valued. Professional development happens informally at the "meeting before and after the meeting" at social gatherings and at events. It also occurs formally at hundreds of seminars, workshops, conferences and symposia.
Providing the group a larger voice and presence, 91 per cent: It is important to identify with and belong to a larger community that will represent and defend your interests, strengthen your professional image, develop opportunities and deal with threats.
Networking and meeting other people, 91 per cent: Running your own business can be lonely and challenging. It is invaluable to participate in an inter-dependent community that shares the same interests and goals.
Conferences and symposia, 91 per cent: This reinforces reason number one. Professional and business development leads to prosperity.
Publications, 88 per cent: The publications serve as the voice of the community and reinforce all of the other benefits.
Friendship and community, 79 per cent: This is similar to reason number three.
Discounts, 78 per cent: This is the easiest to understand. It is a hook that brings people in the quickest. However, membership value is so much more than discounts, even though many of the discounts will more than pay membership dues.
Recognition, 75 per cent: Recognition as part of a larger group is important to many of our members.
It is time to redo the membership satisfaction survey. I wonder if the reasons have changed. I expect they have not.
Whenever a prospect asks me why they should be a member, here is my answer: "Membership in Landscape Ontario is like joining a club for mutual improvement and benefit that is focused on growing a prosperous, professional, ethical, recognized and trusted industry."
I have witnessed huge professional, business, social and personal growth as a direct result of being part of the LO community. I have also observed how the rate of growth is accelerated based on participation.
Are you getting the most out of your membership? If not, get involved. You will be glad you did.
---
Tony DiGiovanni may be reached at
tonydigiovanni@landscapeontario.com
.