October 15, 2013
Why should you renew your LO membership?
Tony DiGiovanni CHT
LO executive director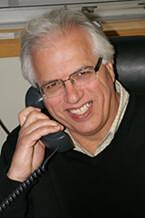 Last month you received a membership dues invoice. I always find it a little awkward sending out membership invoices. It is almost like sending an invoice to a family member.
Many of you have already paid (Thank you!). Some of you sent letters of encouragement and support with your payment (I love receiving those). A few of you sent notes questioning your membership renewal (I love receiving those, too).
I believe it is important to question why you renew your membership. What is the value proposition that you respond to each year? Do you renew because you always did? What benefits do you receive by associating yourself with Landscape Ontario? What would happen if Landscape Ontario did not exist? Is the association effective in advancing the interests of the industry? Could it do a better job?
I also believe that members should be engaged. I know for fact that the more engaged members are, the more value they receive. I have watched members grow personally, financially and socially from engaging in activities of Landscape Ontario. If you have strong feelings about what Landscape Ontario needs to do, step up and lead the change. This is what our founders did. We are very fortunate to have hundreds of engaged members in all areas of association activity. If you haven't stepped up yet, please do so. Please contact me to find out how.
Landscape Ontario's membership renewal rate has been consistently over 90 per cent for many years. Why do most of you keep supporting the association? It is also important to explore why ten per cent leave each year. Thankfully, we have always been able to attract new members to replace those that leave.
Recently, Mark Mallette from the Ottawa Chapter started a discussion on the Landscape Ontario LinkedIn Group. He asked the question, "What are the three main benefits you get from being a member of Landscape Ontario?" Please participate in this discussion. It will help us articulate the benefits with clarity.
Here is what I have observed over the 24 years I have worked with you. The association was formed to bring together like-minded individuals in the landscape, nursery and horticultural industry for the purpose of collectively directing and protecting the industry. At its heart Landscape Ontario is a community for mutual benefit and improvement. Our vision is to create a prosperous, professional, ethical, recognized and valued industry. I believe all specific benefits flow from this common vision and goal.
Do you believe this vision is important? Do you believe that collectively we are stronger? Do you identify with this purpose? How do you articulate this to yourself and others? Would you step up and participate on the various boards and committees to ensure this vision is accelerated?
To me this is one of the main reasons why many of you belong to Landscape Ontario. I have watched many individuals contribute thousands of hours and thousands of dollars in selfless ways, because they believe in building a healthy future for the sector. Is this an effective value proposition? The reason you should join and maintain your membership is because you believe that it is important to work with like-minded people to protect, build and advance the landscape/nursery/horticultural industry.
Perhaps some of you are thinking this reason for renewing is too general. Here are some specific benefits:
Growth in interpersonal and communication skills through participation in LO activities
Access to professional development through courses, seminars, symposia, trade shows, magazines, chapter meetings, etc., which help you stay current
Financial gain through networking, and sharing jobs and contacts with other members
Access to jobs through the website
Discounts through the many affinity programs, that can pay for membership many times over
Access to skilled labour through job fairs and participation in high school, college and apprenticeship programs
Social growth through friendships
Associating your company brand with Landscape Ontario reflecting professionalism to your clients
Certification programs at the employee and employer level
Government relations activity to protect against legislation that would adversely affect our sector, or promote legislation that assists us
Promotion of professional members to the public
Promotion of the industry to the public
Setting your company apart by using the LO brand in your own marketing
Insurance benefit programs
Access to a broad network of other entrepreneurs who can help you deal with all the issues of growing your business
Association resources to enhance business operations, such as HR manuals, safety programs, recruitment tools, templates, etc.
Competitive advantage tools, such as using the LO logo on your equipment, letterhead, website and corporate communications that tell your client you are a caring professional. The Awards of Excellence program does the same thing
Special rates on all industry events and conferences
Access to industry innovations, such as new products, trends and services
Opportunities to contribute to the community under the industry banner
Opportunity to leave a positive legacy
There are many other benefits. I hope you take the time to articulate the reasons why you maintain your membership. To me one of the simplest ways to articulate our value proposition is by using two words, Prosperity Partner. LO exists to help each other prosper personally, professionally, socially and financially. LO is your prosperity partner.
In advance, I thank you for helping our industry.
---
Tony DiGiovanni may be contacted at tony@landscapeontario.com or at 1-800-265-5656, ext. 304.