August 15, 2014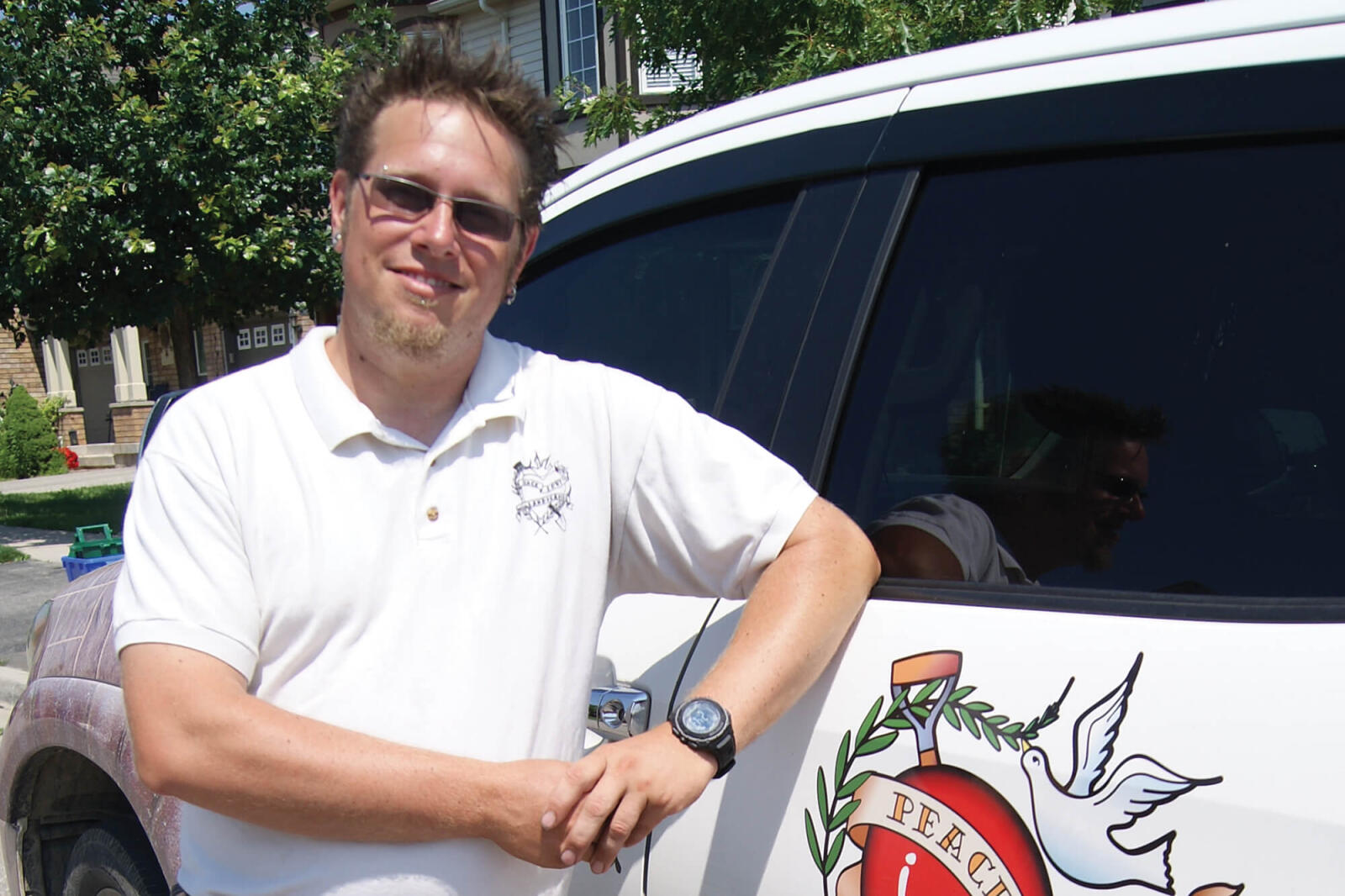 Wolfegang Bonham enhances lives of couple battling cancer
It has been said many times that the landscape industry is the business of enhancing lives.
Wolfegang Bonham, owner of Peace, Love and Landscaping in Burlington, experienced up close and personal the true meaning of what it is to enhance lives.
Bonham first met Larry Stillwell of Burlington when he stopped at the Peace, Love and Landscaping booth at the Burlington Home Show. "This soft-spoken and nice guy explained to me he wanted to create a back yard paradise for his bride. He always refers to his wife, Jane, as his bride." The couple has been married 42 years. She has liver cancer and is on chemotherapy.
Stillwell told Bonham that his budget was around $10,000. "His wants amounted to at least $18,000. He asked me if I could see a way to do something." In the midst of his busy season, Bonham's initial response was no. "I felt that I couldn't give the Stillwells what they wanted on a $10,000 budget."
After the show, Bonham went home, where he could not get the meeting with Larry Stillwell out of his mind. "I talked to my wife about it, and kept telling myself that this is crazy. It is the middle of June and the job would require a crew for two weeks."
Finally Bonham decided he had to do something. "I was touched by both Larry and Jane's situation. I didn't feel right walking away from it. Something about this project really spoke to me."
Bonham says that the circumstance fits with his company's philosophy of going beyond just a garden. "For me, I've always been interested in trying to take my company to a different level," he says.
In the end the project cost about $30,000, while allowing the Stillwells to stay within their $10,000 budget.
When word got out, a number of companies asked if they could be involved. "I was amazed at the response from other companies. It was a bit overwhelming," says Bonham.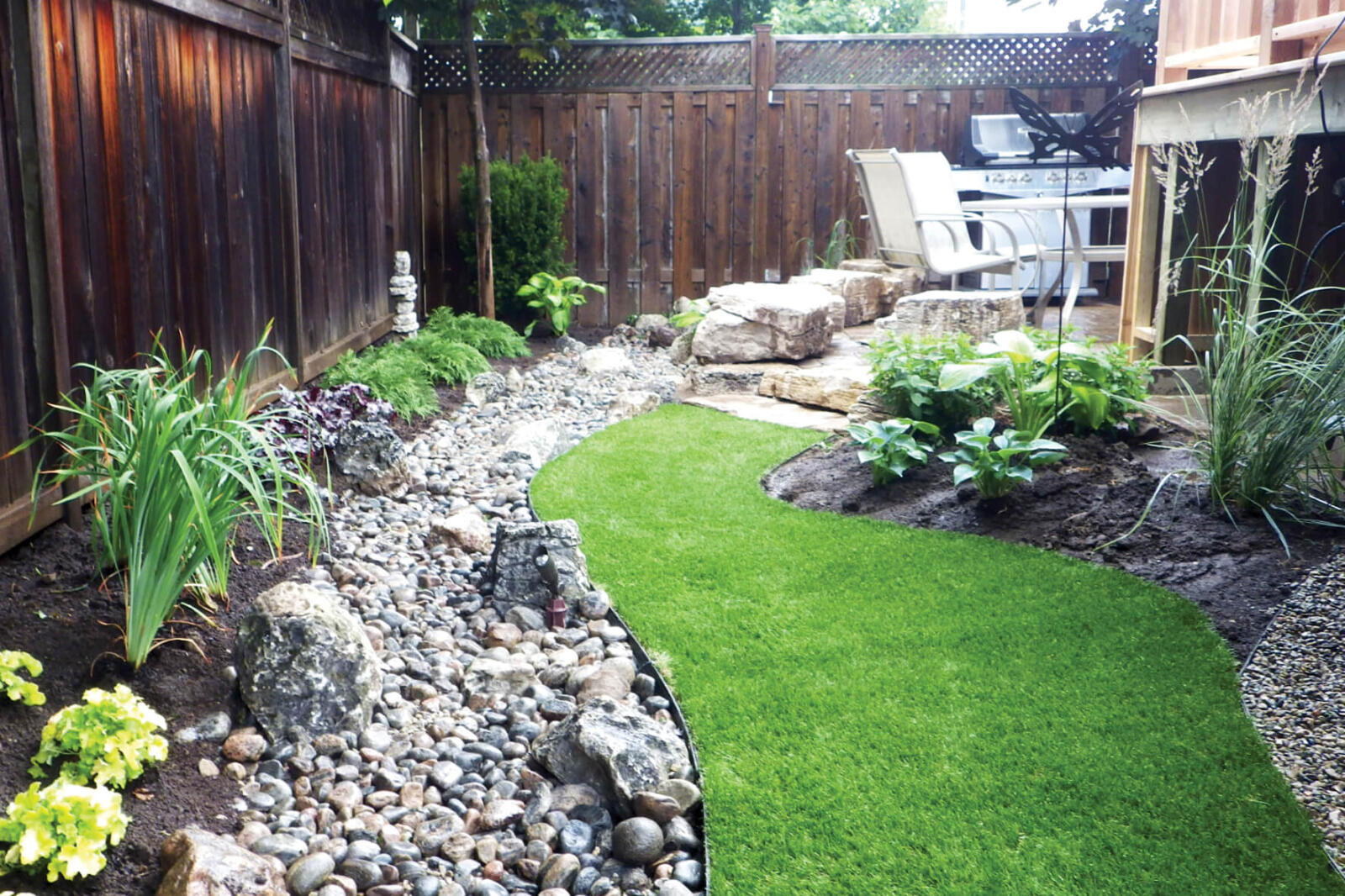 Peace, Love and Landscaping, with a little help from friends, created a back yard paradise for the Stillwells.
---
Providing materials free of charge were Techo Bloc, for pavers; Alliance Designer Products, for Gator Base and poly sands; CAP Brick, for aggregates and soils; Select Stone, for armour stone and a bubbling rock; Martek Supply, for lighting and a water feature basin; AGL (Artificial Grass Ltd.) for artificial turf, including installation; and Millgrove Perennials, for plants. Connon NVK provided discounted nursery stock and Rona Burlington gave preferred pricing on lumber and hardware. "We provided all the equipment, and donated 50 per cent of the labour," says Bonham.
The process of creating the back yard paradise was done in secret. Jane did not know. Behind closed-off windows, Jane couldn't see what was going on in her backyard.
When she was allowed to see the project, her reaction would create the warmest emotion among even the most hard-hearted. A video by CHCH TV in Hamilton shows Jane hugging Bonham, and in heartfelt expression, said, "Oh my goodness. Oh good Lord. Oh Wolfe, this is amazing. It's my oasis." She called Wolfe Bonham her miracle worker.
Bonham says Jane's garden has everything to make it a backyard paradise. The space now has lighting at night, artificial turf, a water feature and more. Jane says she's planning to be out there this summer, then in the fall, and the winter and the spring and as long as she can. "I hope I get to use it for a very long time. That's going to be my goal — use it for a very long time."
Larry says he's in awe of the response by Bonham and his company and all the businesses that stepped up to be part of the project.
Wolfe Bonham says he is very pleased he decided to take on the project. "It's left such a positive feeling for me personally and professionally," he says.
To view the video from CHCH, go to
http://gfl.me/x2cf
.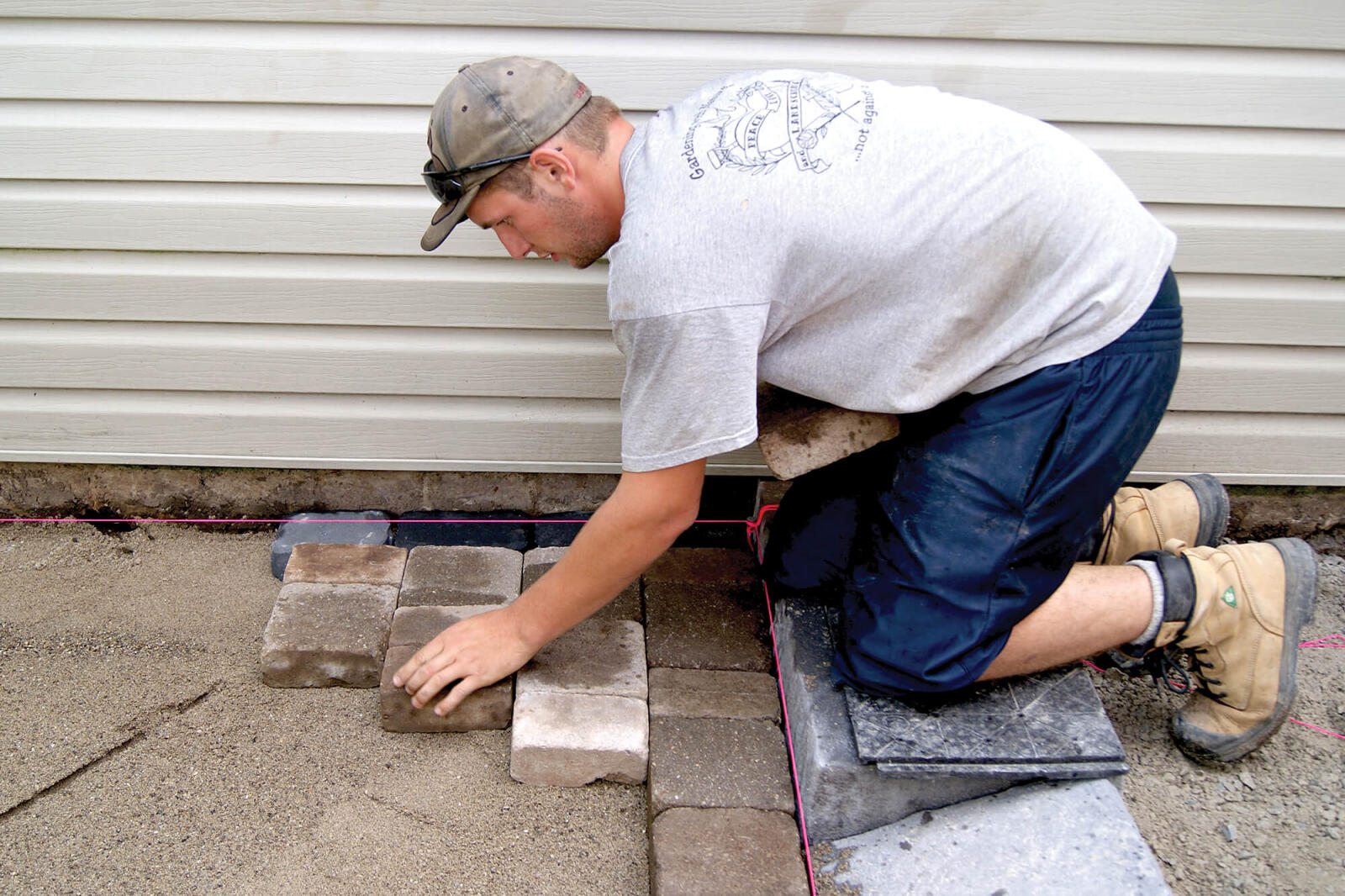 Jordan Milmine was one of the Peace, Love and Landscaping staff to help create a back yard paradise.
---
For Bonham it's been quite a journey to arrive at where his company is today. Out of school, Bonham had a varied working experience. He worked as an audio engineer, and from there — he chuckles when he says it — he left to become involved in jewelry design. He tells of his days living in an RV and travelling across the U.S. to sell his jewelry at festivals. When the recession hit and gas costs escalated, it became tough to make a living. It was time for another career change.
The festival circuit that Bonham was involved had a medieval theme. It required all the exhibit booths to maintain an authentic look. "Each booth area had a cement pad with skirt of cement. It was tough to cover and look medieval," says Bonham. A girlfriend at the time suggested covering the cement with flowers.
In the process of providing the plant cover, Bonham developed a love for gardening. He soon after took a pond building course from Sean James of Fern Ridge Landscaping in Milton. "We became friends at the time, so when I left the jewelry tour, I needed a job. I talked to Sean to see if I could get on to a crew. He surprised me when he made me crew chief. He justified in me taking the crew chief job, saying that I already had experience managing people. He added, 'I know you can drive a truck and trailer.' He told me the rest he could teach me."
After taking courses at Mohawk College and learning as much about plants as possible, about ten years ago Bonham began Peace, Love and Landscaping.
The company provides landscaping services for select residential clients within the Burlington, Oakville, and Hamilton areas, as well as Waterdown, Dundas, Ancaster, Milton and Mississauga.
People are always curious about the name of Bonham's company and its tattoo-looking logo. He says people ask me if I tattooed the logo on my body. He says he can't really remember where he first came up with the name or logo idea. "It's something that just sort of developed over time." And, oh yes, he does have the logo tattooed on his body. "It shows the commitment for my company," says Bonham.
Bonham says that each piece of the complicated logo does have a meaning. Many of those meanings were evident when a back yard paradise was created for Jane Stillwell and her groom: Peace, Love and Landscaping.