October 22, 2016
Your fall membership checklist
By Myscha Burton
LO Membership and Chapter Coordinator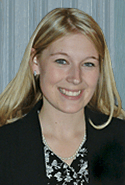 This fall has already been a busy one for me personally, and I am sure it has been for you as well. I recently moved to Guelph and I am amazed at the city's commitment to maintaining green spaces and the variety of outdoor places to visit. With the move I also had to move plants and transform what was an exclusively stone patio into something much more green. Naturally, I Googled 'fall gardening' and the first search result was the "Fall Gardening Checklist" courtesy of the Landscape Ontario website. It's nice to know our search engine optimization is working!
If you spend any time with me you will know I am borderline obsessive about checklists (added bonus if they are colour-coded), so I thought I would provide you with one of your own. With the above average temperatures we've had this summer, it's hard to believe winter is coming. Just as I had a fall gardening checklist, here is your fall membership checklist:
Landscape Ontario Membership Checklist, Fall 2016
October
Make sure dues payment has been mailed in. Pay online or call Landscape Ontario with credit card information.
Attend monthly chapter meeting and try to include your staff.
Put the LO decal you received in your membership renewal package on your vehicle. Call LO if you need more.
Take time to relax and enjoy the latest Landscape Ontario and Landscape Trades magazines to get caught up with association and industry news.
Visit horttrades.com and download your standard snow and ice contract templates and prepare them for last-minute clients.
Browse through LO's 2016-2017 Professional Development Guide and identify courses to attend in the winter.
November
Attend monthly chapter meeting and try to include your staff.
Special event: Ottawa Chapter's annual Day of Tribute to honour the Canadian military and their families at Beechwood Cemetery.
Get caught-up with the latest association and industry news with Landscape Ontario and Landscape Trades magazines.
Special event: All members are invited to take a trip to Waterloo for the annual Fall Freeze-Up on Nov. 18. Make it your company holiday/end of season party.
Find your favourite photos of your best jobs this year and upload them to your online LO company profile. Your profile is where potential clients can connect with you via the popular landscapeontario.com website.
Special event: Celebrate your company's success at the Georgian Lakelands Chapter's Awards of Distinction. These awards recognize members of the Georgian Lakelands Chapter, and are presented during a fun, social evening.
Update your employee handbooks for winter using the 'Labour Resources' section at horttrades.com. Make sure to review the 'hours of work and overtime tool' to calculate rest periods and rest between shifts for those long nights spent plowing snow.
December
Register by Dec. 16 to take advantage of early-bird pricing for Congress.
Attend a monthly chapter meeting. This is your last chance in 2016 for ultimate networking.
Send holiday greeting cards to your favourite clients.
Read the latest Landscape Ontario and Landscape Trades magazines.
Check horttrades.com for details on winter chapter meetings and add them to your calendar.
Budget planning for 2017; review the list of endorsed suppliers and member savings programs available to you and find out where you can save money in the new year.
Register for courses under LO's Professional Development series before Jan. 1 to qualify for a 10 percent discount.
---
Contact Myscha at
myscha@landscapeontario.com
or call 1-800-265-5656 ext. 2333.