February 15, 2018
By Myscha Stafford
LO Membership and Chapter Coordinator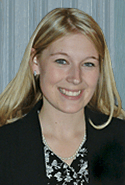 When I think winter sports, I think of snow, ice, speed, and snazzy sweaters from the Hudson's Bay Company, emblazoned with our country's signature maple leaf. Typically, I don't think of South Korea, but PyeongChang is hosting the 2018 Winter Olympics this month. I love the Olympics. The Games are the embodiment of hard work, perseverance, team work, pride and excellence. These are all ideal qualities for your staff to possess. What Olympic competition best describes the team at your company this season?
Skeleton/luge
Do you feel like your team is hurtling out of control? Are you on a path with lots of twists and turns and you can't see a light at the end of the tunnel? Perhaps there is a team member who likes to lean into a project head-first, without involving all of the team members. Maybe you have an avoider who likes to make a quick exit from a sticky situation or who doesn't address challenges in an appropriate way. Use your winter prep time wisely to pump the brakes on the sled and re-evaluate your goals for 2018. Do you need to invest in some training for your staff? Are there staffing changes that need to be made? Before the sled picks up more speed, review your game plan for the season and make proactive changes to ensure this season wins the gold medal.
Speed skaters, figure skaters and skiers
Are your staff playing for the team or is there someone who is concerned with showing off and sticking the landing themselves rather than thinking about the team as a whole? This is not to say you have a Tonya Harding among your staff, but perhaps these folks are prioritizing their own goals over those of the team. These are the candidates who need to be integrated into the team mindset versus individual sports. Invite this person to accompany you to a Landscape Ontario chapter meeting or register them for a training seminar. Providing them with leadership roles and increased responsibility will make them feel valued and responsible for the results of the team/crew they lead.
Bobsled, curling or hockey
Any team sport requires all players to work at the same pace and same skill level in order to drive the company forward. Those not up to speed quickly stand out and can let the entire team down. A gold medal-winning team that works together to rise above any challenges and perform their very best is your ultimate goal. And a great team is not afraid to "sweep!" up after themselves. This is the gold medal team you've been striving for. You have invested in training staff via LO's winter seminars and chapter meetings, and you've held pre-season meetings to set out your goals. The new team jerseys are ready (company apparel), appropriate leaders have been allocated and you have spent the winter preparing your team for their moment to shine and represent your company to the best of their abilities. #winning.
Constant training improves your game
There's still time to take advantage of some pre-season training to get your team in tip top shape before the main event. LO's nine regional chapters are focused on safety, regulations and compliance in the months of February and March. Meeting topics include: accessibility regulations, mental health awareness, commercial vehicle rules and regulations and medical marijuana in the workplace (a budding topic!).
Meetings are a great opportunity to learn the latest information from experts which can help both you and your staff to avoid costly fines, downtime and mountains of paperwork. In your pursuit of Olympic gold this season, don't forget to also take time to relax, enjoy and have fun. LO's Golden Horseshoe Chapter is busy 'gearing up' for two events, including the annual Family Day Weekend Bowling (Feb. 18) and the Gear Up for Spring (March 27). Georgian Lakelands annual Ski and Spa Day returns on Feb. 22 and you can participate in one or both options. Either way, there's also great food and a guaranteed good time at the après ski.
Go Canada go!
---
Myscha Stafford can be reached at
myscha@landscapeontario.com
or 1-800-265-5656 ext.2333.