April 5, 2018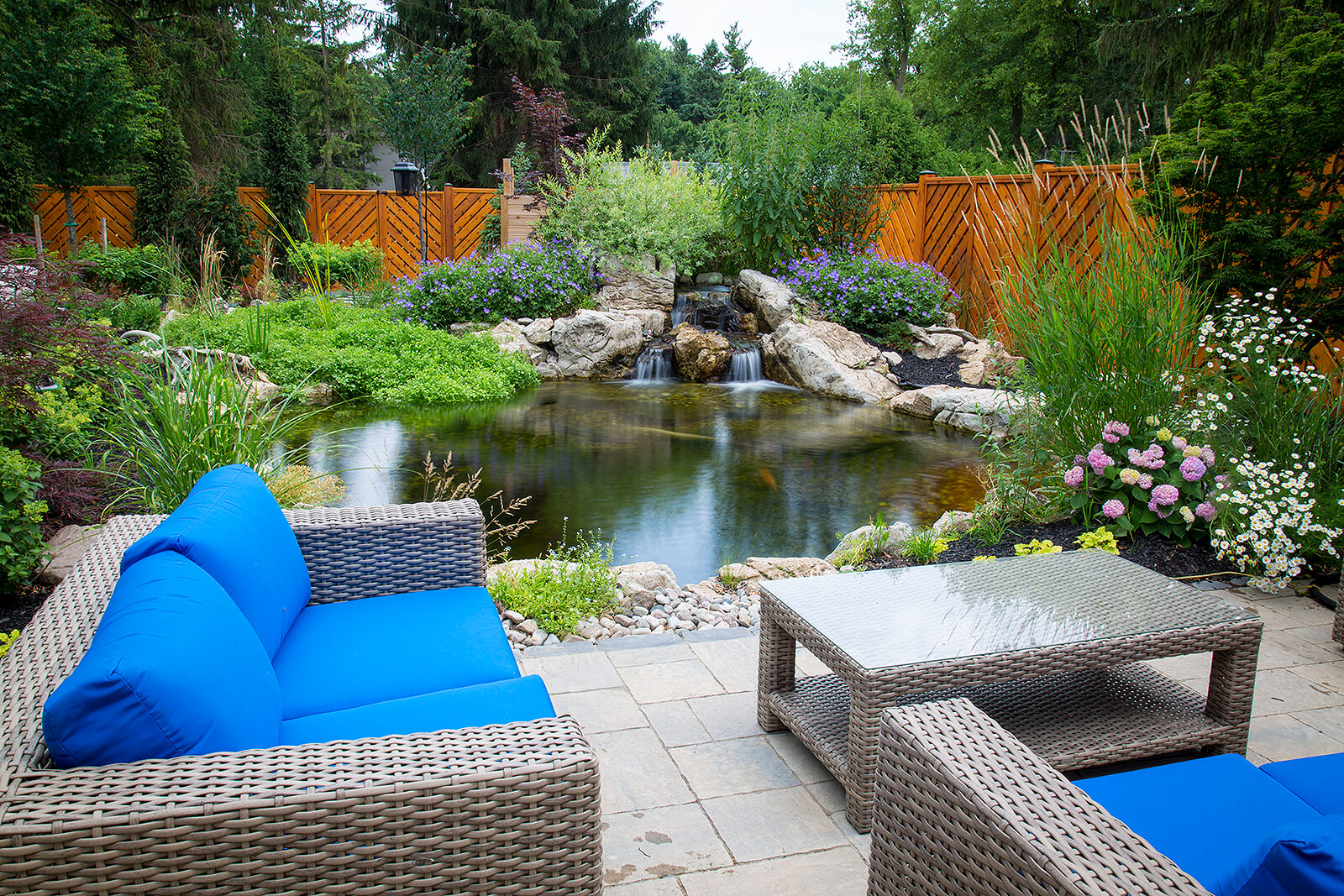 By Scott Barber

There's just something about water that resonates with Joe Genovese. The soothing sounds of a waterfall, the way a pond attracts wildlife, and most importantly, how natural water features draw families and friends together.

"I have found that what we're providing is not just the landscape, but a spot where families spend a lot of time together because everyone is drawn to water, instinctively," Genovese explains. "People tell us that they spend more time together as a family, and their kids aren't on their iPad as much and they are playing outside, sticking their hands in the water, and I love being able to do that."

Genovese launched Genoscape, a design-build landscape company that specializes in natural landscapes and water features, in 2002. The company is based in Markham, Ont.

Despite years of experience working for prominent landscape companies already under his belt, Genovese says the early years were challenging.

"At first it was harder, because you have all these ideas and you've got to kind of convince people to do them," Genovese says. "That's not always easy when you don't have a portfolio of work that you can use to show them what you're capable of."

However, Genovese's passion for his work shined through, and the business grew steadily through word of mouth. As the portfolio grew, it "exponentially got easier" to sell, Genovese says. Now, customers often give the company carte blanche, trusting Genoscape's experience and expertise.

"Now, my customers basically just say 'whatever you think,'" Genovese says. However, the design process he employs involves collaboration amongst the client and the whole Genoscape team.

"Personally, I start designing from the inside of the house," Genovese explains. "The client has already decided that they want some kind of water. 'We've seen what you do and we think it's beautiful,' they say. I'll go meet with them and we'll sit down inside, because that's where you are most of the time. The first thing we try to do is make a water feature that is able to be enjoyed from inside, usually from the kitchen, because that's where most people spend a lot of their day. So we'll look out the window and say, well how about there? That's where we start, looking at where the water fall is going to be."

Next, Genovese and the client go outside and talk about their lifestyle. Does the client have a big family? Do they enjoy entertaining friends? How old are their kids? Those questions lead to a set of criteria that gets Genovese's creativity flowing. And it always comes back to a natural style with natural elements, because that's what the company is all about.

"A lot of the time, we'll go at the project with sketches rather than a plan set in stone because it's hard to do drawings for water features because they always change along the way," Genovese explains.

As the build progresses, he likes to empower his team members to contribute their ideas and to really take pride in the creative process.

"When you're passionate about something, it's nice to be able to share that with other people," Genovese says. "My staff members love it as well and they're right into it. It's kind of like a bug, you catch it and you want to do nicer things and different techniques."

When it comes to hiring, Genovese says he doesn't look for people with experience with water features.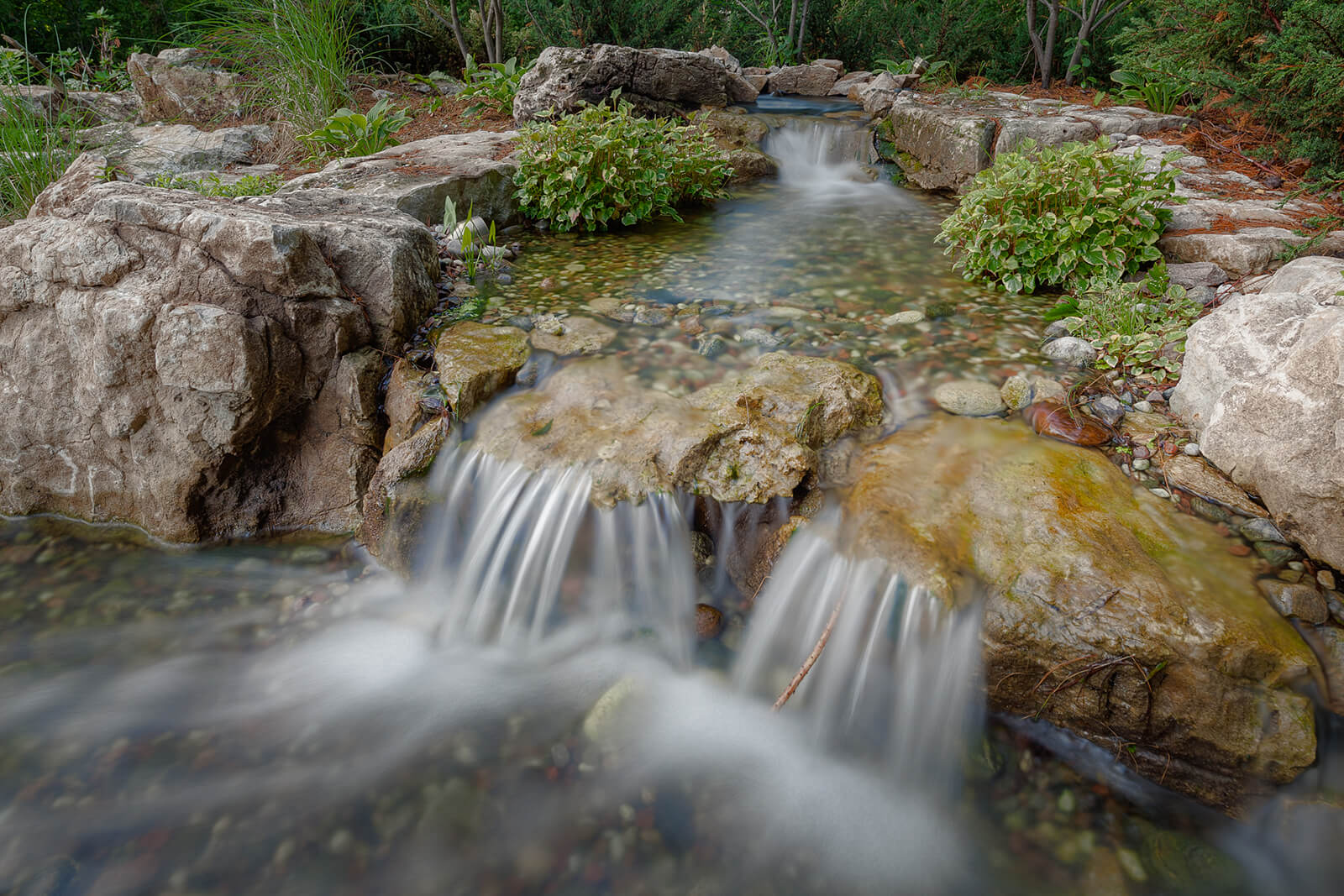 A certified Aquascape Contractor, Genoscape builds ecosystem ponds, pondless waterfalls, fountain scapes, rain harvesting systems and custom water features.
---
"I don't look for experienced people because usually they do things differently than the way we do when it comes to the water aspect," he says. "There are a lot of different theories and techniques when it comes to this stuff. We have a particular way of doing it, and I'm not saying anyone else is wrong, but there are different ways of building."
Instead, Genovese hires "team players who are willing to work hard and are passionate about what we do. I don't want them just showing up and pushing wheel barrows, I want them to care and I actually give them a lot of creative power now to try their own things and I ask for their input, and I want people who want to do that. I want them to take pride in what they do. Be punctual, be ready to work hard and love what you're doing, and if you don't like it, I think you should do something else. And that's okay, just be happy with what you're doing."
Landscaping can be a challenging job, Genovese acknowledges. The hours are long and the work is physically demanding, however, it's also rewarding.
"The guys feel good when we finish a project and they see how happy the clients are with our work," Genovese says. "Everyone wants a sense of purpose. It doesn't matter if you're a foreman or you just started. Everyone wants to feel like they're doing something that's worth it and their efforts are going to be acknowledged. Our customers are usually so happy with the outcome that the guys can sense that, and they feel good at the end of the day. They feel good about putting in sometimes 12- or 14-hour days."
Genoscape's "Secret Path" garden at Canada Blooms in 2017 brought attention to the story of Chanie Wenjack, an indigenous boy who died in 1966.
---
In recent years Genoscape has become involved with a number of social and charitable causes. For Canada Blooms in 2017, the company partnered with the Gord Downie and Chanie Wenjack Fund to creative "The Secret Path" garden. The garden highlighted the story of Wenjack, an indigenous boy who died after fleeing a Northern Ontario residential school in 1966. The garden was a massive success, garnering media attention as well as the People's Choice Award for best overall garden at the festival.
"We really tried to stay true to the story and we actually reached out to different indigenous communities and asked for their input," Genovese says. "We asked, what would you like to highlight in this garden? Because who am I? It was quite amazing how it all came together. It gave us that feeling, of 'look how amazing this can be on so many different levels.'"
For Canada Blooms 2018, Genoscape took on the Highway of Heroes Living Tribute campaign.
"Mark Cullen approached us and said he really liked what we had done with the Secret Path garden, could we do something for Highway of Heroes," Genovese says. "I thought it was perfect. It's a great cause that hits a lot of different issues, obviously planting trees and honouring the heroes. It's a really great idea."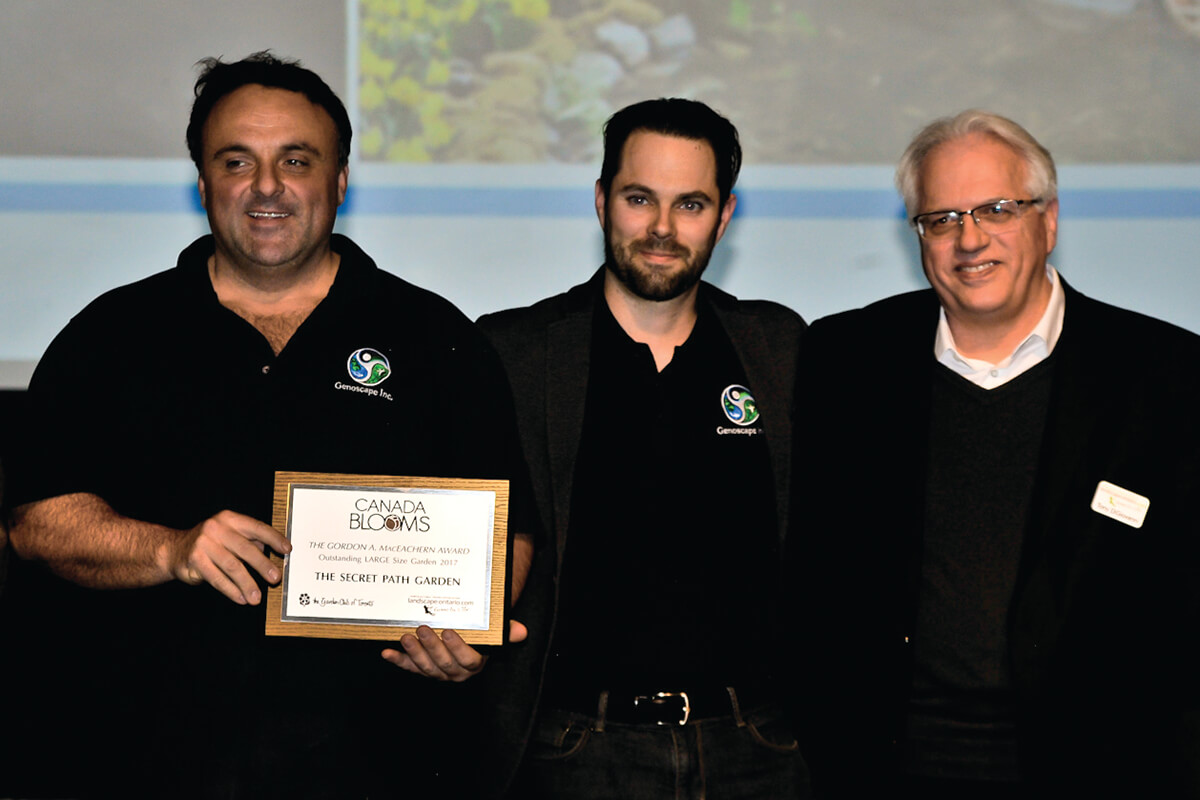 Canada Blooms visitors has voted Genoscape gardens as the "People's Choice" for each of the last three festivals. Pictured here are owner, Joe Genovese and project supervisor, Colin Nasmith with LO Executive Director, Tony DiGiovanni.
---