May 15, 2014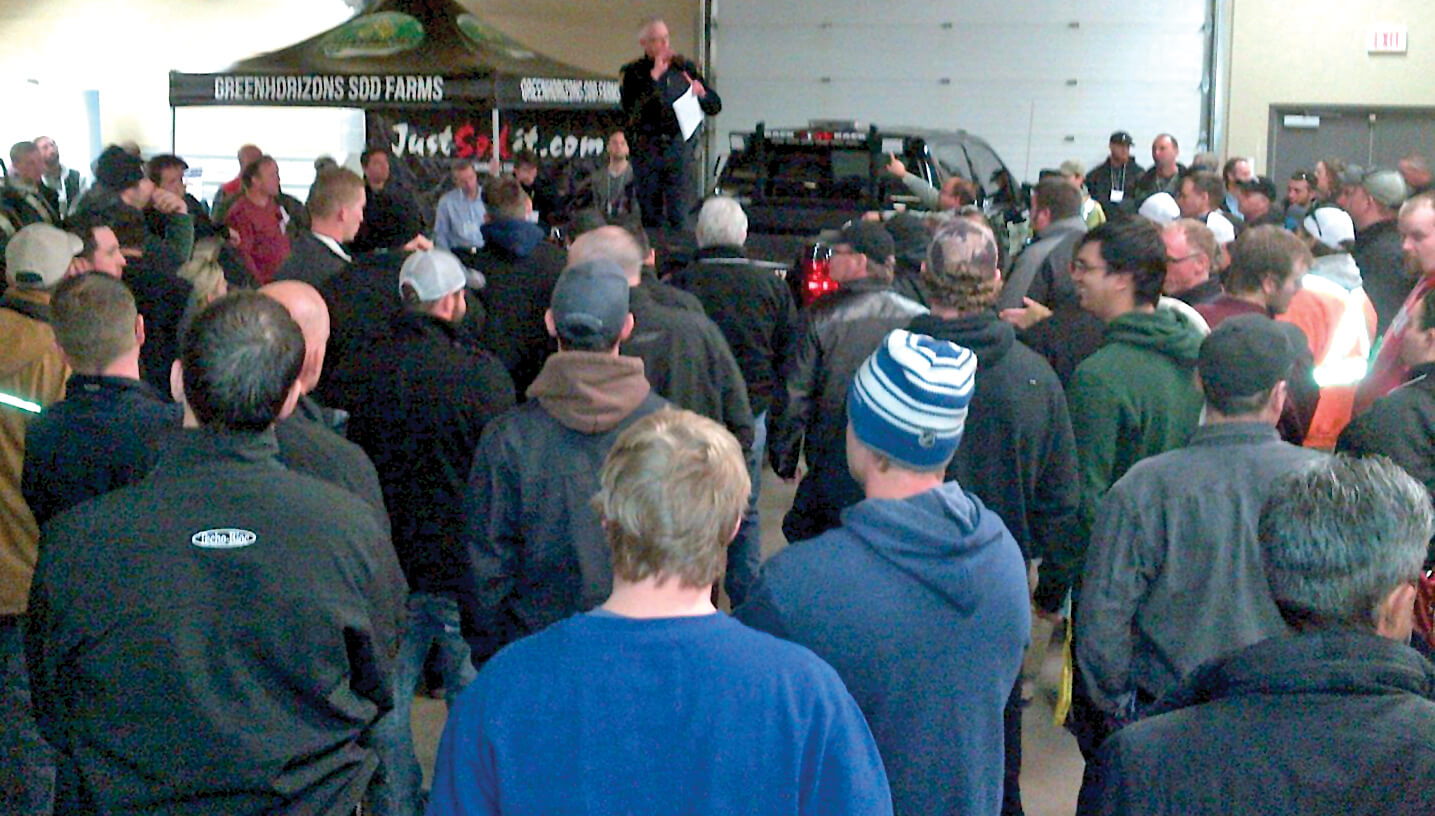 Golden Horseshoe Chapter expands meeting into trade show
The Golden Horseshoe Chapter Spring Event with the Ministry of Transportation has become one of the most successful chapter events within Landscape Ontario.

In 2013, organizers were ecstatic over the success of the event when it reached capacity with over 120 landscape professionals in attendance. This year's event more than doubled the attendance numbers, when 250 LO members and potential members arrived at the Ancaster Fairgrounds Building on Mar. 27.

Landscape Ontario members in attendance represented a variety of sectors including, garden centres, grounds management, growers, landscape contractors, lawn care, interiorscape, irrigation, lighting and snow and ice.

In response to the popularity of the event last year, the Golden Horseshoe Chapter Board, under the guidance of president Jeff Smith, introduced changes to accommodate the growing interest in the annual MTO meeting. Tim Rivard CLT chaired the newly-formed committee, which consisted of Fran MacKenzie, Andrew Barz and Chapter Coordinator Lee Rozon. This committee was responsible for implementing new and exciting ideas to transform what was already considered a great event into a Golden Horseshoe Chapter trade show that would be informative, educational and fun.

The change in dynamics of the event resulted in the outstanding success this year. In an effort to cross-promote and connect the Chapter sectors, a selection of over 25 vendors displayed and promoted products to a targeted audience of Golden Horseshoe members. "This was very well received by all in attendance," says Rozon.

"Attendees were very interested in the morning presentation by MTO officer Ian Walters, who provided valuable insights on how to keep vehicles safe and prevent fines. The visual vehicle inspection was a highlight of the day and the members gained a great deal of valuable knowledge," noted Rozon.

Dean Anderson of The Workplace Health and Safety Prevention Services captivated an afternoon audience with a presentation on the requirements of safety awareness in the workplace. He gave insights on how to prepare for upcoming audits, which begin July 1.

Also at the Mar. 27 event was the Golden Horseshoe Chapter's Annual General Meeting. Fiore Zenone, past president, conducted the election with a majority of the present members remaining on the board, along with three new additions. The board members volunteer their time and talents to organize great events throughout the year and provide a valuable link between members and Landscape Ontario.
Members of the Golden Chapter Board of Directors are Jeff Smith, president; Tim Cruickshanks, provincial board rep.; Fran MacKenzie, first vice president; Andrew Barz, second vice president; Dan Grieve CLP, treasurer and secretary; and directors, John Bos CLT, Allard DeVries, Dan MacLean, Rob Mendonca, David Pierce, Tim Rivard CLT and Bruce Wilson.

Main event sponsor was Drivetec, with lunch sponsor, Galer Farm Equipment; refreshment sponsors were Lockwood Dodge Chrysler and Unilock. Attendees had the chance to win thousands of dollars in fabulous prizes, graciously donated by many of the vendors in attendance who were a huge part in making this a great day.

Vendors included, Drivetec, Galer Equipment, Lockwood Dodge Chrysler, Unilock, Echo, Ike Vanderwoude Landscape, Natural Landscapes, Trackem Solutions, Miska Trailer Factory, Millgrove Perennials, Bay-Lynx Manufacturing, National Building Group, Nisco National Leasing, Kubota Canada, LS Training, Budget Environmental Disposal, Outdoor Supplies Stabila, Compass Creative Studio, Martek Supply, Promo Shan Corp., Windmill Power, Greenhorizons Sod Farm and Rittenhouse Since 1914.