June 15, 2013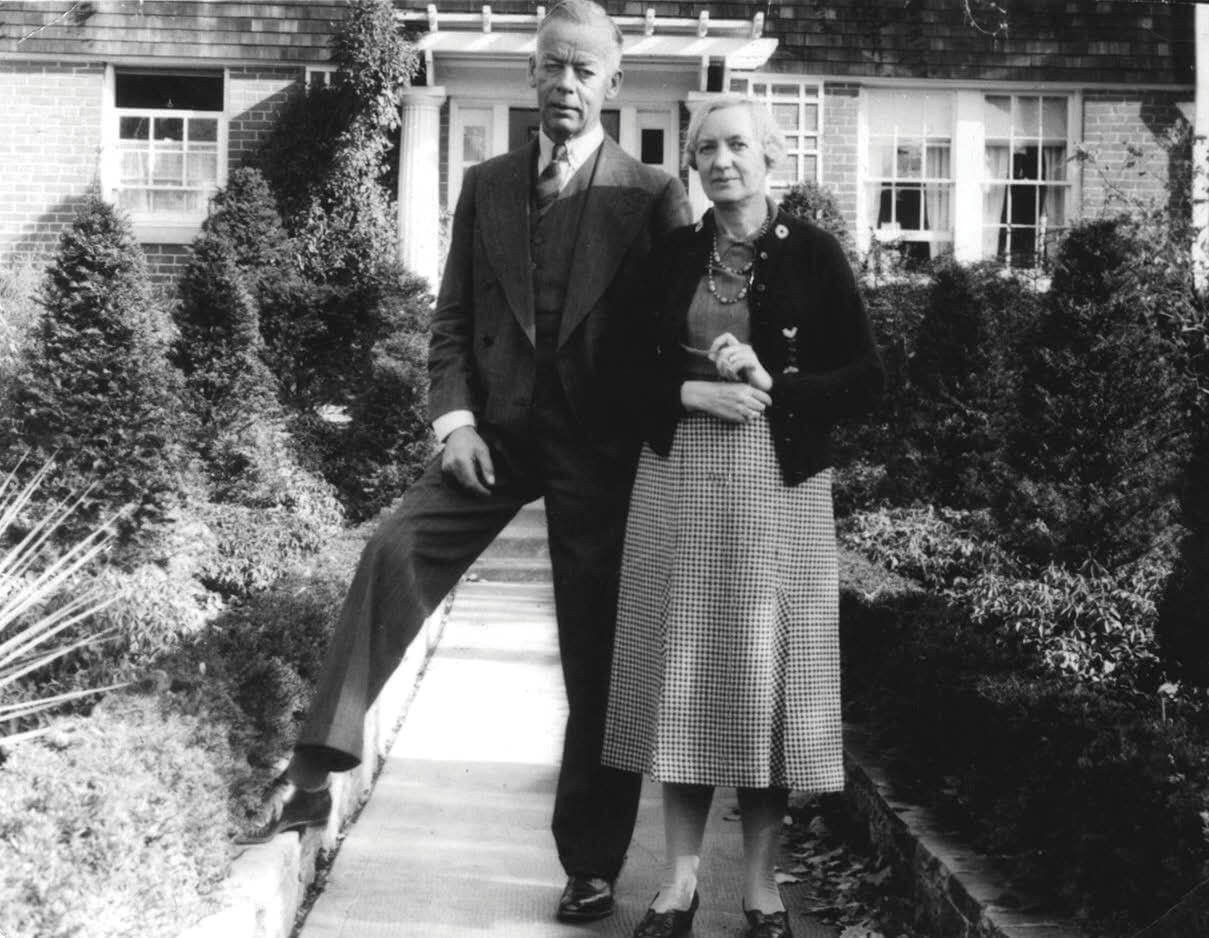 History of Sheridan Nurseries is 100 years of people growing a nursery
By Larry Sherk
In 1911, two young British landscape architects, Lorrie Dunington and Howard Grubb, married and combined their last names as Dunington-Grubb and immigrated to Canada.
They travelled across Canada on CP Rail, paying their way by writing articles on the various cities they visited. At the same time, they were looking for a place in Canada to settle. Eventually their choice was Toronto, where they opened one of Canada's first landscape architecture offices.
The couple set out to pursue private and public commissions, but soon found a severe lack of herbaceous and woody ornamental plants to use in their designs. The few Ontario nurseries at that time were mostly based in Niagara and concentrated on growing fruit trees.
Late in 1913, they purchased 100 acres of land near Sheridan, Ontario, which is now part of Oakville. They advertised in the British Gardeners Chronicle for a horticulturist to establish and run a nursery specializing in ornamental plants. Herman Stensson, raised in Denmark and then working at Kew Gardens in England, answered the advertisement. In March 1914, he, his wife Annie and four young sons, J.V. (Bill), Fred, Chris and Howard, arrived at Sheridan where a drafty farm cottage was provided for them.
Herman hired local farmers to assist in growing. During W.W. I, he also hired women to work in the fields. Constant DeGroot, originally from Belgium, joined the nursery in 1922 as head propagator, a position he held for 50 years. Albert Brown, originally from England, joined the company in 1915 as landscape manager, a position he held for 35 years. In 1950, he became advertising manager, holding the position until he passed away at the age of 85 in 1967.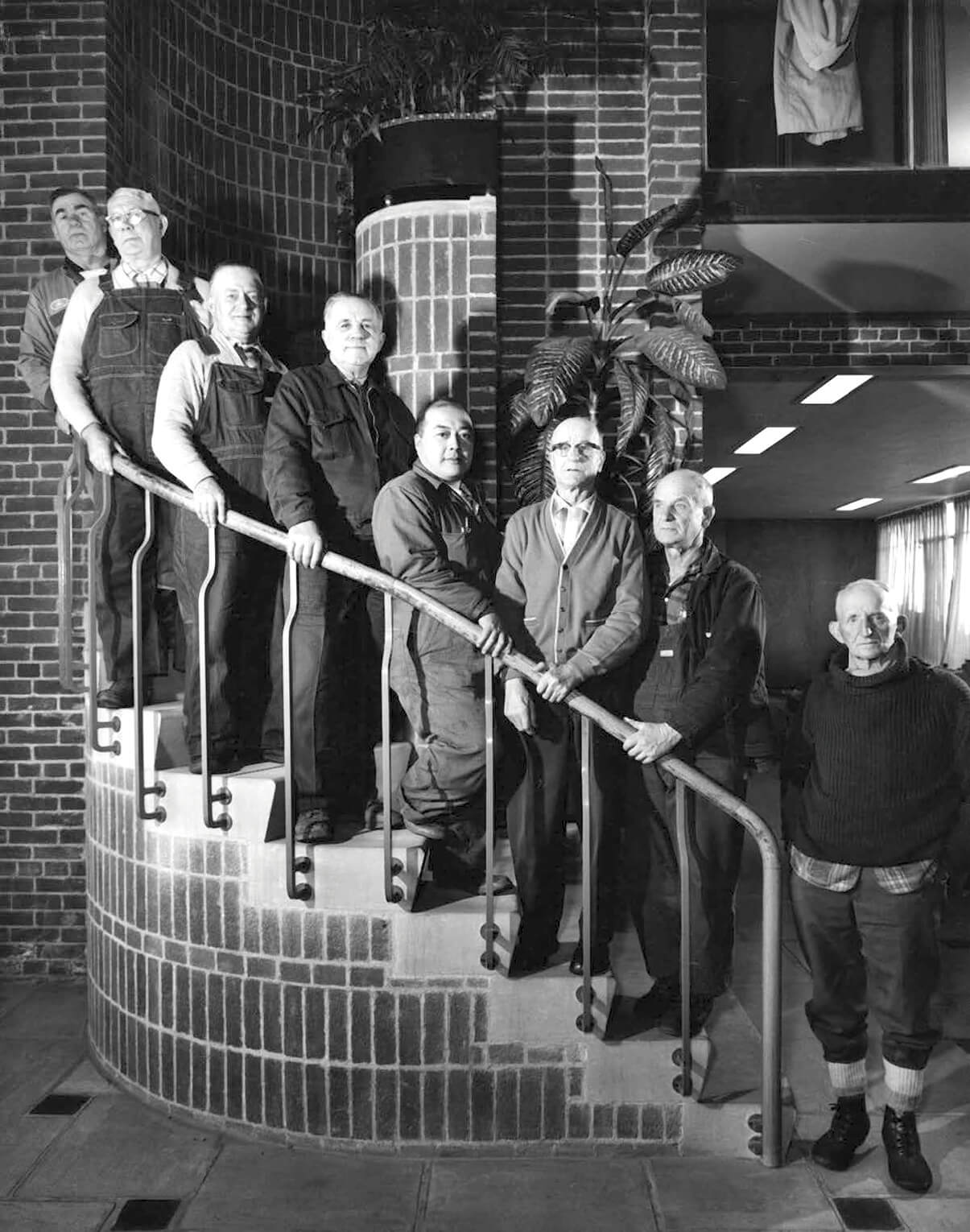 During Sheridan's 50th anniversary in 1963, this photo was taken of eight men who had a total of 276 years with Sheridan.
---
Other early employees who came from England included Charlie Barnard, Bill Pilgrim, Frank Shepherd, William Clark and John Turnbull. They worked in either the nursery or in the sales stations in the mid-1920s.
The nursery continued to grow with 300 acres under production by 1930. In 1923, Herman Stensson returned to Europe to search out qualified nurserymen. From this, numerous Danes joined the company, with many spending the rest of their careers with Sheridan. These included names like Buch, Madsen, Sorensen, Christinsen and Gertsen. Others, such as Bob Nielsen, Jen Peterson and Henry Fuglesang, went on to start their own nurseries after a few years at Sheridan.
During WWII many of the Japanese Canadians, who were forced out of British Columbia, were hired by Sheridan. Some like Mitzi Iwasaki and Sam Kayama stayed on for over 40 years.
During the war, Sheridan also hired young women who became known as "Farmerettes" to work in the fields during the summer. This was a common practice when so many Canadian men went overseas.
All four Stensson brothers worked for the company with J.V. (Bill), who graduated in landscape architecture from Harvard, becoming nursery manager in 1938 after his father died. K.F. (Fred) served as wholesale sales manager and later vice president of wholesale sales for over 40 years. Chris was nursery office manager for many years. Howard graduated from O.A.C. in 1936 and became a school teacher, rejoining the nursery staff in 1964. A year later, he became nursery manager and then president in 1972 following the death of his brother Bill. Howard retired in 1992. A sister Betty, born at Sheridan in 1917, would spend her career working in the nursery office.
After WWII, immigrants from Europe included Joe Pokluda, Joerg Leiss, Bill Kegel, Uli Rumpf along with many others who joined the company. Nurseries were added at Sherway in Etobicoke in the late 1930s and close to 1,000 acres near Georgetown in the 1950s and 60s. Today, this is the site of the company's head office.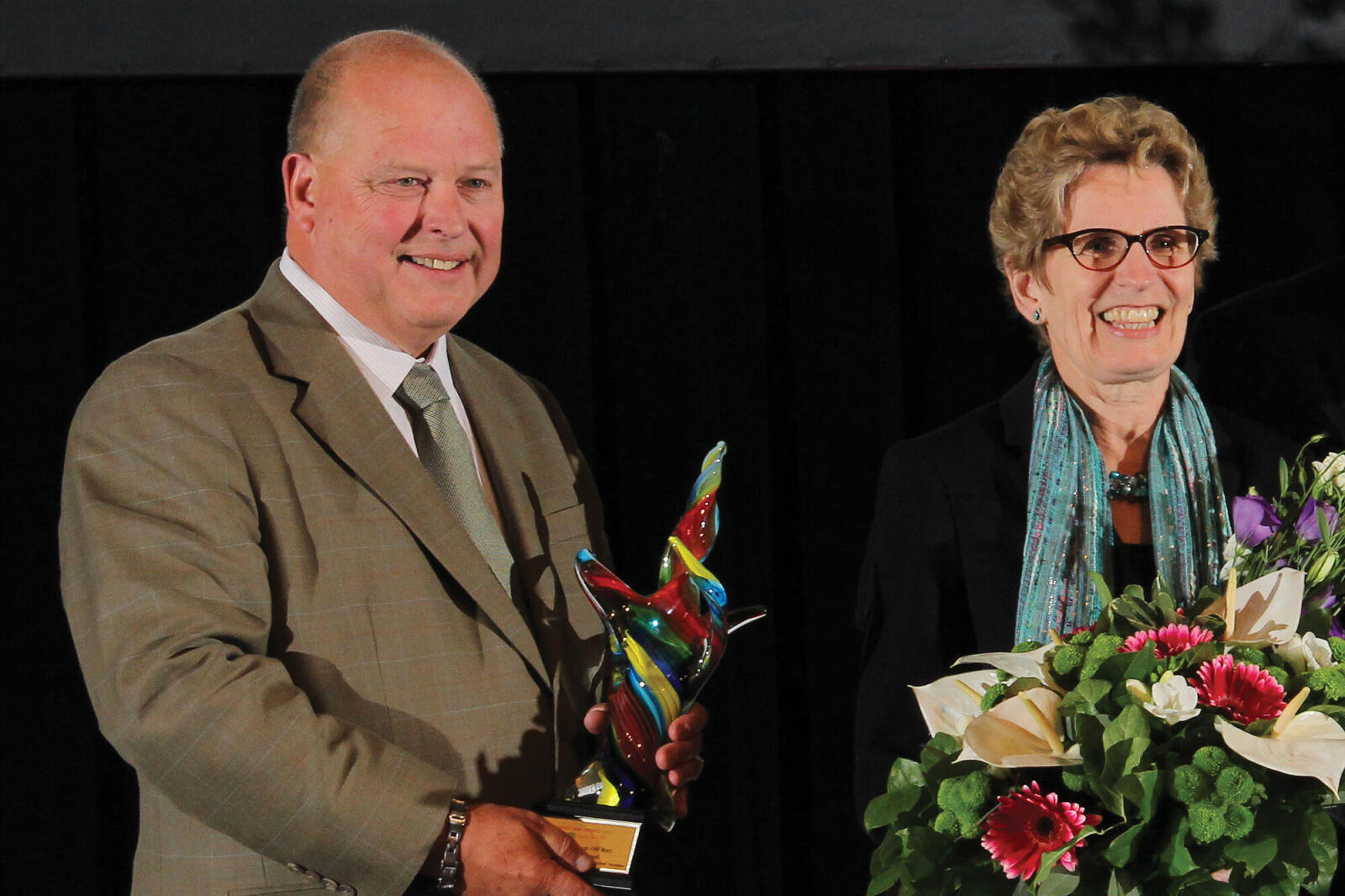 Ontario premier and agriculture minister Kathleen Wynne said she was privileged to hand out a special award marking Sheridan Nurseries' 100th anniversary. She is shown here at Canada Blooms congratulating Sheridan's president Karl Stennson.
---
Sales stations, now called garden centres, were added in Clarkson (1923), Montreal (1925), near Bay and Bloor in Toronto (1929-1952), Toronto, Yonge Street (1952), Unionville (1967) and Kitchener (1978).
Many post war employees, such as Otto Timm, Les Solty Sr., Joe Below, Ben deBoer, John Putzer, D'Arcy Queripel and Paul Offierski, would go on to start their own successful companies.
The next large wave of post war workers came from Portugal and included Manuel Sobrinho, who has spent over 55 years working in the nursery, then a garden centre and subsequently in wholesale sales.
For the last 40 years, offshore workers from Jamaica and Mexico have joined Sheridan in the nursery, providing much-needed manpower and expertise in the fields.
Howard and Lorrie Dunington-Grubb built a successful practice as landscape architects, designing many large private gardens such as Parkwood in Oshawa, Oakes Garden Theatre and the Rainbow Gardens in Niagara Falls, and University Avenue (1964) in Toronto, which was Howard's final commission.
Today, many young Canadians trained in business, horticulture and other disciplines have joined Sheridan in all areas of the company. Bill Stensson, Howard Stensson's son, is now CEO. Karl Stensson, Fred's son, is president and Karen Stensson, Fred's daughter, is sales representative for the Atlantic Provinces.
In 2003, Sheridan Nurseries purchased the Weall and Cullen chain of garden centres. This brought further expertise with people such as Art VandenEnden, Larry Parr, Pat Large and Fred Paiva.
The Dunington-Grubbs started an institution in Canadian horticulture, which helped thousands of employees excel and spread out into various fields of horticulture in Canada. Lorrie died in 1945, while Howard was still president of Sheridan Nurseries when he died in 1965.
Today Sheridan Nurseries is Canada's largest combined garden centre retailer and grower and this year is celebrating 100 years of innovation in Canada.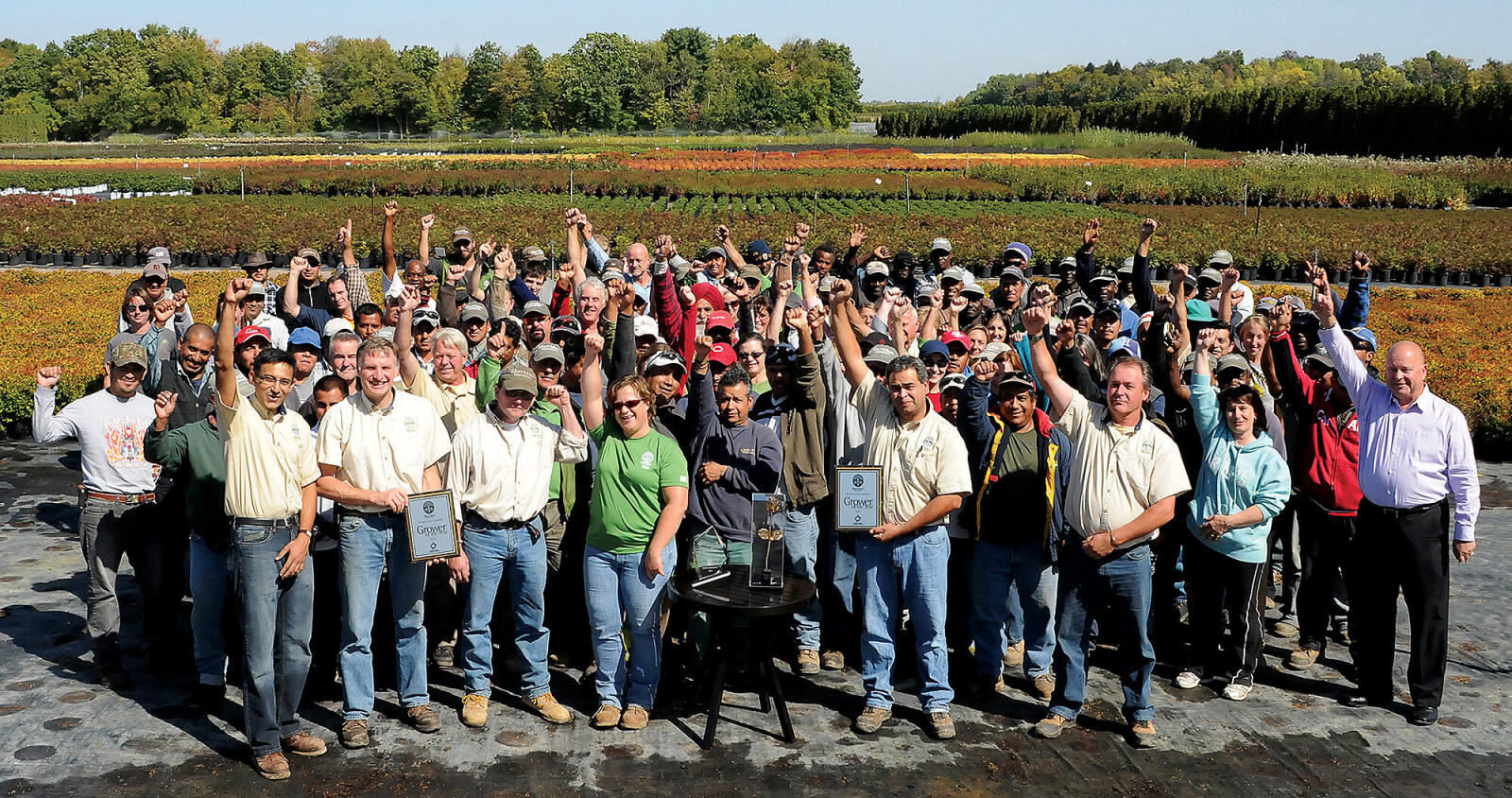 Nursery staff members who led Sheridan Nurseries to its Grower of the Year Award in 2012.
---
Larry Sherk retired after 32 years as chief horticulturist for Sheridan Nurseries. He is the senior author of Ornamental Shrubs for Canada, and has been a member of the Garden Writers Association for 35 years.