June 15, 2013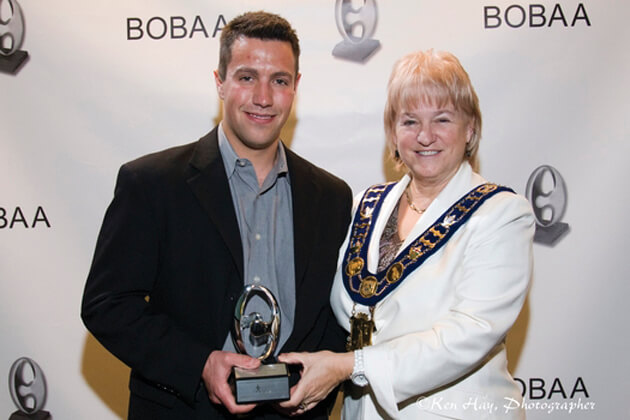 Lawn Troopers wins young entrepreneur award
The City of Brampton's Economic Development Office and the Brampton Board of Trade honoured Landscape Ontario member Lawn Troopers on May 2 at the annual Brampton Outstanding Business Achievement Awards.
Matt Hill, owner of Lawn Troopers, was named Young Entrepreneur of the Year in a special ceremony at the Pearson Convention Centre, with more than 400 business leaders in attendance.
Nominees were selected for a long list of qualities, which included demonstrating excellence in entrepreneurship and business leadership, product innovation and technological achievement, job creation, productivity and quality improvements, promotion, customer service, reliability, community contribution and environmental leadership.
"I am thrilled to have won Young Entrepreneur of the Year," said Hill. "Although I started this business by myself, this award was only made possible over the years by all the hard-working employees of Lawn Troopers."
"The Brampton Outstanding Business Achievement Awards honour and recognize those job creators that have gone above and beyond delivering excellence for their customers. I want to congratulate the nominees, and our 2013 winners," said Brampton mayor Susan Fennell.
"One of the key things the judges liked about Lawn Troopers is the fact that we are so actively involved in the community. The judges also mentioned that they were blown away by our efficiencies across the company. They were impressed by our systematic, procedural approach to work flow and they thought we were well positioned for future growth," said Hill.
A committee of six independent judges representing different business sectors selected the winners.
Hill entered the business of lawn maintenance in 1998 by servicing three neighbourhood customers with a single lawn mower and "a passion for great service." What started as a part time summer business has evolved in to a year-round operation with an ambitious team of dedicated lawn maintenance professionals.
"We're proud to say that Lawn Troopers still services our very first customer from 1998. Building long-lasting customer relationships is what we strive for," said the award winner.
Mayor Susan Fennell said, "I'm proud to serve as mayor of a city that is home to hard working and innovative entrepreneurs, who produce groundbreaking ideas and services. The job-creating investments made by businesses in Brampton help strengthen our local economy, create exciting employment opportunities and elevate Brampton's unrivalled quality of life."
A video that was shown at the presentation may be found at
http://bit.ly/lawntroopers
.