November 1, 2016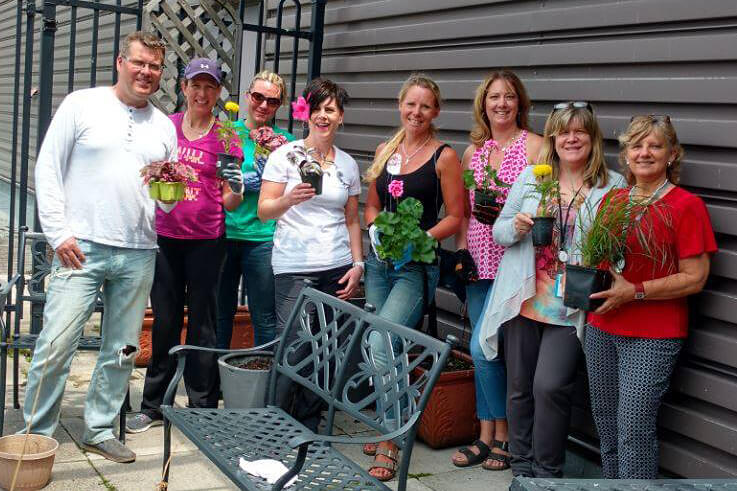 LO and Connon support terrace garden project
On May 25, Landscape Ontario and Connon Nurseries/CBV Holdings of Waterdown, Ont. teamed up with non-profit The Angel Project to revitalize a rooftop terrace garden for long-term care patients at Joseph Brant Hospital in Burlington. The outdoor space now boasts colourful new plants and comfortable furniture for patients to enjoy.
The project started when Lissette Kingo, founder of The Angel Project, reached out to Landscape Ontario's conference and event manager Kristen McIntyre, looking for support in sprucing up the dated patio space at JBH. McIntyre soon connected with Terry Vanderkruk at Connon Nurseries, who was "so generous with his time and plants."
"The Angel Project benefits patients who have been hospitalized for five years or more; most have had no visitors," Kingo explains, "either because they have no family and friends, or because they have simply been given up on, abandoned by the world. They are too sick to be moved to a nursing home and will spend the remainder of their days in a hospital alone." Kingo says the patients range from 18 to 65 years of age and some have multiple sclerosis (MS) or Amyotrophic Lateral Sclerosis (ALS), but the majority of patients are victims of car or sporting accidents as well as gunshot wounds.
"These patients are just like you and I, but most of them are paralyzed to a certain degree and some are on ventilators," Kingo says.
Thanks to this joint venture, the hospital terrace now has a cozy green space for patients who often have limited access to the outdoors.