July 15, 2018
Tony DiGiovanni CHT
LO Executive Director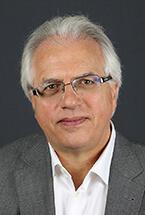 Ever since I can remember the number one issue facing our profession is workforce development. Last month's column looked at the root causes and outlined some strategies. However, I have always believed that individually as business leaders we have the most power and influence to improve our own situation. It is easy to blame external circumstances. It is much harder to look in the mirror and ask some hard questions.
Recently, Lindsey Ross of Living Green Landscaping (also one LO's Provincial Board members), recommended a book by Bob Chapman titled, "Everybody Matters: The Extraordinary Power of Caring for Your People Like Family." The title of Chapman's book says it all.
What would happen if we cared for each one of our employees like family? How can we make working fun? How can we create the conditions in our business where it is understood that everyone has different gifts? How can we nurture our employees' development? How can we better express appreciation for their contributions? How can we celebrate their achievements? How can we create a safe work atmosphere where employees are trusted? How do we make sure everyone has a chance to grow in competency, responsibility and contribution? These are all challenging questions to explore. What if we explored them all together with our staff?
Let's examine some of these questions:
How can we make working fun? We are fortunate the work we do is inherently rewarding. We create and maintain spaces that people enjoy. We are stewards of nature. We improve the landscape and leave a legacy of benefit. However, it is also normal to work long, hard hours in all kinds of weather. How about creating friendly competitions amongst staff teams with fun rewards? How about hosting weekly staff barbecues? How about taking some time to contribute to a community project? How about being more liberal with praise and appreciation?
How can we create an atmosphere of trust and safety? Many businesses are full of rules and policies. These rules exist to ensure compliance and manage risk. However, they also come from a paradigm of control and command as well as non-trust. Is there a way to change this? What if we asked our staff family to develop their own policies? Lindsey showed me a company policy on mobile phone use. When I asked him where the policy came from, he told me it was developed by staff. The policy was very detailed and surprisingly restrictive. However, his staff was willing to live within the policy because it was theirs.
Being in control of your own job is a huge motivator. This is what drives most of us as entrepreneurs. How can we set up conditions in our businesses where the staff are in more control of their own jobs and contribution? Last year, LO Show Manager, Heather MacRae and I asked four groups of students from Laurier University how we could make the landscape profession more attractive and appealing to young people. All four groups came up with similar answers. They felt we should focus on the entrepreneurial benefits.
How can we set up the conditions for every staff member to be an entrepreneur? Years ago, long-time LO member, Parklane Nurseries pioneered this concept. They set up a number of crews to run independently using the same Parklane brand. In a way, it mirrored a successful franchise model. Perhaps Parklane was way ahead of their time. Perhaps it is time to experiment with this idea once again.
There are thousands of ways to improve the culture and conditions within your business, but there are only a few values and principles that form the foundation of those activities. The perspective of family is a very useful starting point.
Over the years, I have had the pleasure of meeting hundreds of LO members. I am always amazed and inspired by their generosity and contribution to family, church, association and community. However, there is a tendency in most of us to separate personal, professional and business lives. We sometimes think of employees as productivity tools. It is far more enriching to think of the entire business (including all employees) as a conduit to enhancing lives.
One of the most defining memories of my career came when I heard the late Perry Molema say, "We are in the business of enhancing lives." What a great way to look at our own businesses. However we need to make sure the lives we are enhancing include those of our family, suppliers, customers, community, employees and their families as well. A business culture focused on caring for everyone we touch will create the ideal conditions where people will want to work for us. Even though it sounds counter intuitive, if we truly care about our employees, we can be confident and brave enough to encourage them to leave if that is what's best for them. Hopefully, they are inspired enough to create the same conditions of care in their next job.
When Bob Tubby served as LO president, he coined the phrase "Prosperity Partner." This concept is another way to communicate the same point. If we think of our work as being a prosperity partner to everyone we touch, we will create a culture where people will want to work for us.
A business where the focus is on enhancing the lives of others in meaningful ways cannot help but remain relevant and prosperous. It's a business I want to work for.
Tony DiGiovanni may be reached at
tony@landscapeontario.com
.