December 15, 2014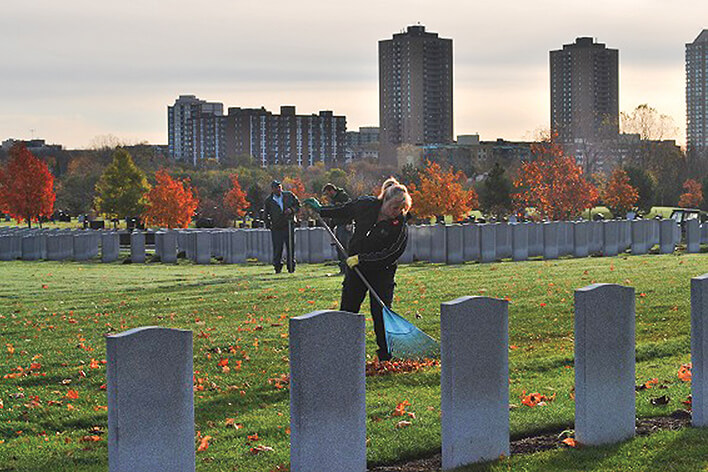 Ottawa honours veterans at Day of Tribute
This year marked the ninth edition of the Day of Tribute by the Ottawa Chapter to honour members of the military and their families.
For over a decade, Ottawa Chapter members have volunteered their staff, equipment and products to clean up the grounds at Beechwood, the National Cemetery of Canada, in preparation for Remembrance Day services on Nov. 11.
This event was initiated in 2003 by Sharon Rouette-Urquhart, of Green Unlimited, to honour veterans during the Year of the Veteran. Rouette-Urquhart wanted to give back to the servicemen, veterans and their families, who gave the ultimate sacrifice for our freedom.
She believed that industry members would want to participate in a day of caring for the grounds in preparation for Remembrance Day.
The day was clear and sunny with colder than normal temperatures. Attendees were welcomed at registration with coffee and muffins, courtesy of Bradley's Commercial Insurance. Warrant Officer Clayton Nevell worked alongside members and provided hands-on support. Members went through their paces, aerating, fertilizing, seeding and cleaning leaves amongst the fields, and grave sites.
The Chapter's refurbishing the cemetery took on a special significance this year, following the murder of two Canadian soldiers. Remembrance Day ceremonies grew into a crowd of thousands watching the ceremonies. Princess Anne with her husband, Vice Admiral Sir Timothy Lawrence, attended the ceremonies at Beechwood.
The Oct. 31 Day of Tribute chair, Canadian Forces Retired Chief Warrant Officer Pete Campbell, of Geosynthetic Systems, introduced the following dignitaries in attendance: Commonwealth War Graves Commission Operations Director Captain Harry Harsch, OMM CD RCN (ret'd.) Commonwealth War Graves Commission Technical Services Officer (Horticulture) Captain Joe Sipos, CD RCN (Ret'd), Canadian Forces Warrant Officer Clayton Nevell, and Roger Boult Chief Operating Officer Beechwood Cemetery.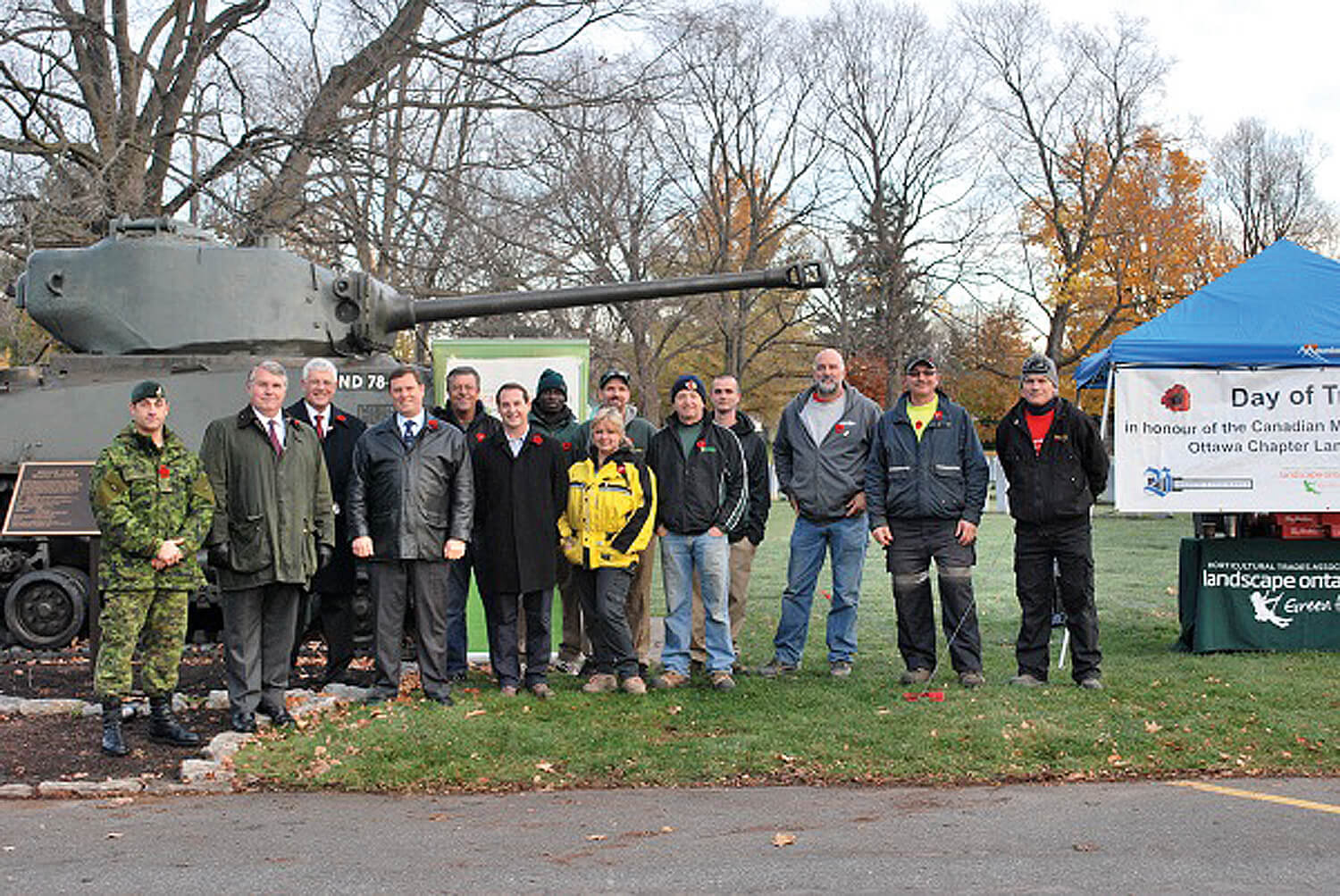 Some of the crew and dignitaries who attended Ottawa Chapter's Day of Tribute at the National Cemetery.
---
Members in attendance at this year's event included Green Unlimited, Peter Smit and Sons, Natural Impression Landscaping, Geosynthetic Systems, Algonquin College and Weedman.
Product this year was kindly provided by Manderley Turf Products and Plant Products, with equipment from Peter Smit and Sons, Weedman, Green Unlimited and Natural Impressions Landscaping. A thank you goes to Sipan Tires for the attendee giveaway, D. B. Promotions as T-shirt sponsor, and Norleans Technology as event sponsor.
Even though attendance was down for this year's event, Campbell was amazed at the enthusiasm and camaraderie displayed by those who participated. "What we lacked in numbers was certainly made up for in our typical can-do fashion."
Beechwood Cemetery was established in 1873 and is the final resting place of more than 75,000 Canadians.