October 15, 2010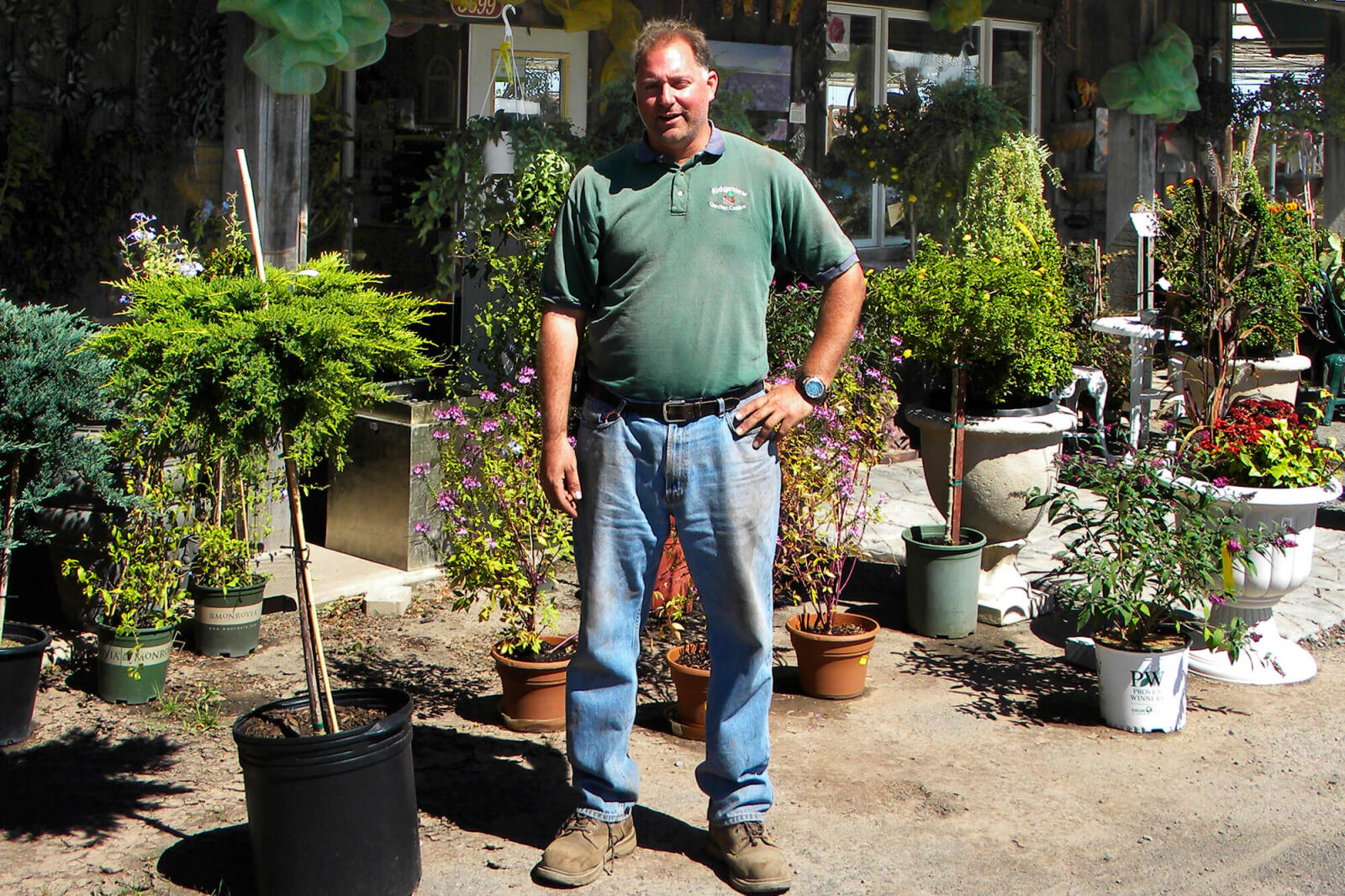 Ridgeview Garden Centre grows from a small fruit stand
By Allan Dennis

Tony Sgambelluri began business 15 years ago with a small fruit stand on the side of Highway 81 in Grimsby. As customers began requesting more and more gardening items, it wasn't long before Ridgeview Garden Centre was born.

Sgambelluri moved to the area from Mississauga when he was eight. "I love working outside, so moving to this area was the best thing for me." He has 50 acres on which to grow produce.

Serving an area encompassing the communities of Beamsville, Grimsby, Smithville and Vineland, Ridgeview is one of the few full-range local garden centres in the area. The retail outlet stocks the usual selection of garden supplies, plants, soil, etc. But it's more than that, also handling a large selection of unique home and garden decor and giftware. There is also a full florist service on the premises. The list of other services from Ridgeview includes such items as bulk supply of soil and mulch, snow removal, interlock paving, container gardening, and water features.

Today the fruit stand remains, albeit it is also much bigger than when it first opened, while the garden centre has grown to take in four acres. The fruit stand remains separate from the garden centre. Sgambelluri says that the clients are also different for each operation. "Customers who come for the fruit and vegetables are not interested in the garden centre, and those coming to the garden centre are not interested in the
fruit stand."

He laughs at how the staff at the fruit stand will ask the staff at the retail store to send over some customers when things are busy in the garden centre, and it's a reversal when the season picks up with the fruit and vegetable stand.

New promo ideas help improve season
The past summer was not a great one for most garden centres, and Sgambelluri said he also found the season not as good as anticipated. "Business began great, but stalled in July." To help build numbers, some creative ideas came from staff to improve the season. One of those was to stage an auction with all the proceeds from two lots in the auction given to charity. There was a strong promotion campaign in place, in co-operation with the charity.

"It was a great idea. Despite terrible weather, we sold 37 of the 50 lots put up for auction," said Sgambelluri. He says Ridgeview will definitely repeat the event next year.

Helping to organize Garden Centre Symposium
As a member of Landscape Ontario's garden centre sector group, Sgambelluri is helping organize the Garden Centre Symposium on Oct. 18 at Toronto Congress Centre. "I can't understand why anyone owning a garden centre would not attend this full-day symposium."

Sgambelluri points out that there are a number of highly respected speakers scheduled to make presentations at the event. "These are world class people who are able to provide great ideas that work for those operating an independent garden centre."

Sgambelluri is also chair of the Ontario Fruit and Vegetable Convention to be held in February in St. Catharines. He says his experience with this group has shown him how valuable, in terms of education and promoting new concepts, that conventions and symposia can be. "And, it's all available at a very inexpensive price. Anyone who doesn't attend this event is really losing out."

Another avenue that Ridgeview uses to gain insight into new ideas is visiting other garden centres from April to June to see how they operate. "It's a great way to pick up new promotional ideas that have worked for others."

Sgambelluri says he hopes to see many of his fellow independent garden centre owners at Expo, where they all can share ideas to make sure their industry remains vibrant, healthy and progressive.