March 15, 2012
Three Ontario companies bring home national titles
Three Landscape Ontario members brought national honours to the association, winning four major awards in the National Awards of Landscape Excellence.
The 9th annual awards event was held at the Westin Nova Scotia Hotel in Halifax on Feb. 8. Hosted by Landscape Nova Scotia and the Canadian Nursery Landscape Association, over 150 guests filled the room to recognize operational excellence.
Ontario companies receiving awards included Sheridan Nurseries of Georgetown, named RBC Grower of the Year. Sheridan's Mississauga store shared the Chrysler Garden Centre Inspection Award with Canadale Nurseries of St. Thomas.
Shades of Summer Landscaping and Maintenance, Milgrove, won the John Deere Award of Excellence for Residential Landscape Maintenance.
The awards event was hosted by Liz Klose, CNLA Landscape Priorities Manager, and Niki Jabbour, media personality and author of The Year Round Vegetable Gardener.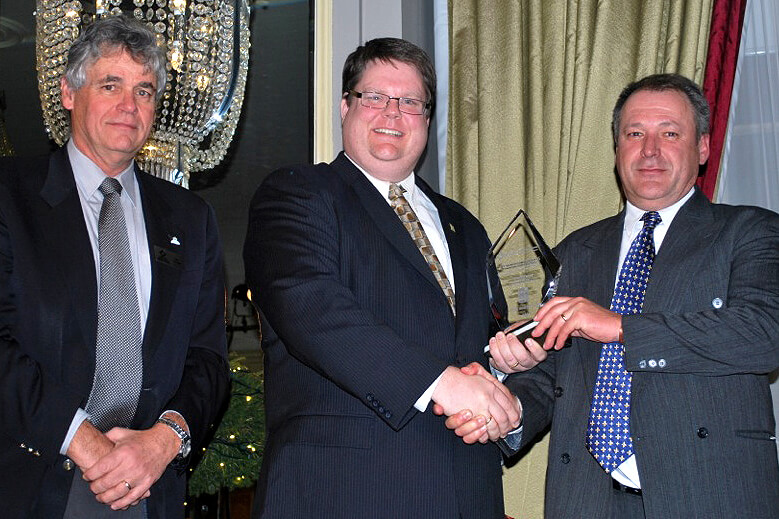 Representing Sheridan Nurseries, Bill Stensson, left, and Pieter Joubert, right, accept RBC Grower of the Year Award from Steven Harris of RBC.
---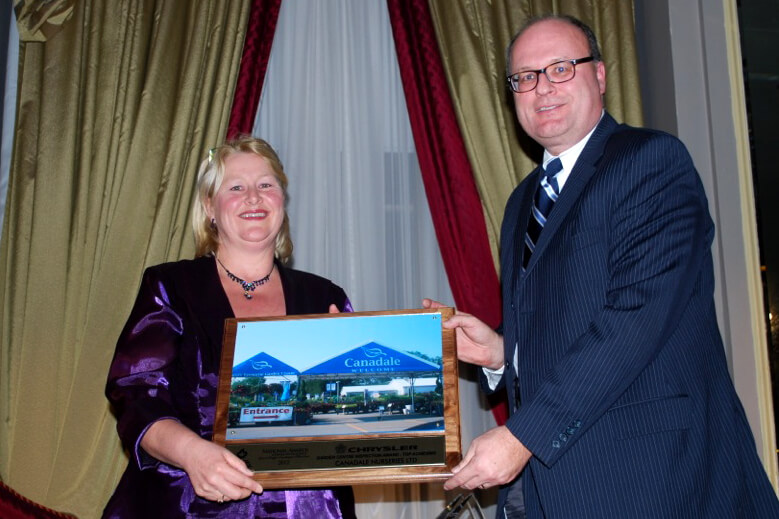 Pauline Intven of Canadale accepts the Chrysler Garden Centre Inspection Award as the top achieving garden centre from Steven Harris of RBC.
---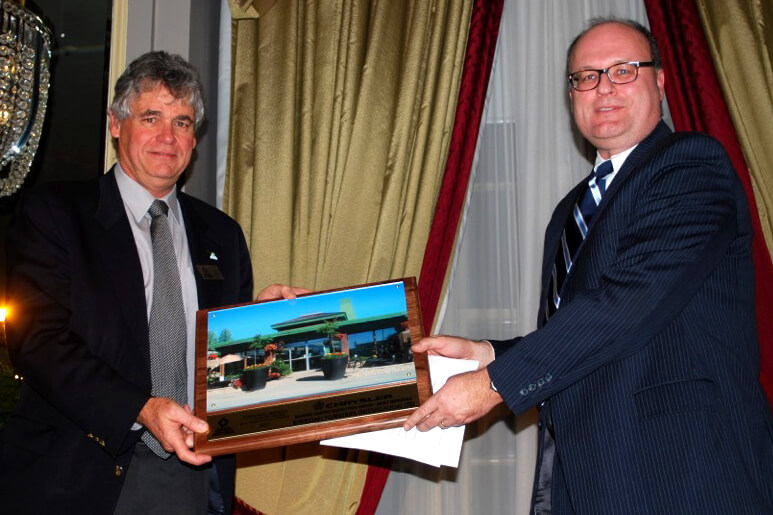 Bill Stensson of Sheridan Nurseries, Mississauga, left, accepts the Chrysler Garden Centre Inspection Award as Most Improved Garden Centre from Bill Fisher of Chrysler Canada.
---
Sponsors
Award sponsors are RBC, Chrysler, Dynascape, Caterpillar and John Deere.
The national awards program is intended to showcase the highest level of professionalism in Canada's green industry. Each provincial association nominates members that won in awards in the respective province. There are seven categories: commercial landscape construction/installation, residential landscape construction/installation, commercial landscape maintenance, residential landscape maintenance, landscape design, grower of the year, and garden centre excellence awards.