May 15, 1997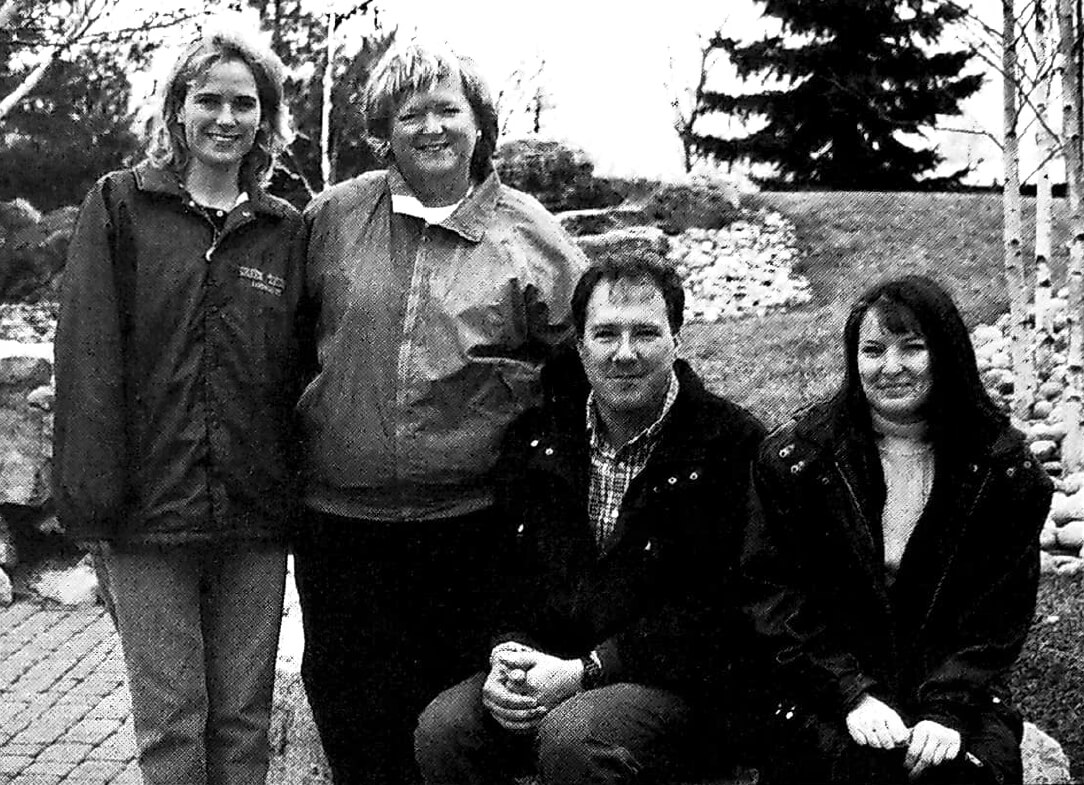 Tragedy strengthens family business
By Sarah Willis
Green Thumb landscaping pride themselves on the high quality maintenance they provide, and will never sacrifice that quality by lowering their price to keep a customer.
The management team at Green Thumb Landscaping, from left: Keri Thomas, Kathy Thomas, Todd Rainey and Melanie Girouard.
The death of a spouse is, at the very least, a shattering experience. If that spouse is also your business partner, the impact of an unexpected death is magnified immensely and reaches every facet of your life.
When Kathy Thomas, of Green Thumb Landscaping in Burlington, lost her husband to a fatal heart attack, she lost both a life partner and a business partner. Kathy admits that it has taken several years to piece things back together, but today her company is stronger than ever thanks, in part, to the life-altering experience she and her children underwent with the untimely death of John Thomas in 1993.
1997 marks the 26th year Green Thumb Landscaping has been maintaining landscapes in the Greater Toronto Area. The company itself had a rather sudden inception, Kathy recounts, when her late husband was laid off in 1971 from the sales position he had secured just several years earlier after graduating from the University of Guelph. At that time Kathy was in hospital recovering from the birth of their third child. "At first when John said he wanted to start his own business l didn't take him seriously. I thought it would only be a temporary situation until he found another job," she smiles.
However, in true entrepreneurial style the couple threw all their energy and resources into running their company, which, like all long-standing firms, has had its share of ups and downs.
From the very beginning, John and Kathy focused on providing quality work for a fair price. While she admits 'quality' has become a hackneyed word to which many companies merely pay lip service, Kathy explains that deep down, she and her staff really do understand the essence of 'quality.'
Of course, true quality always carries a price. The clients served by Green Thumb pay well for the service they expect and receive. A polite, uniformed crew arrives at their property promptly and on the same day each week. The lawn is cut, flower beds are edged and cultivated and other maintenance details are taken care of. The maintenance service also includes often ignored chores such as edging the lawn along the sidewalk.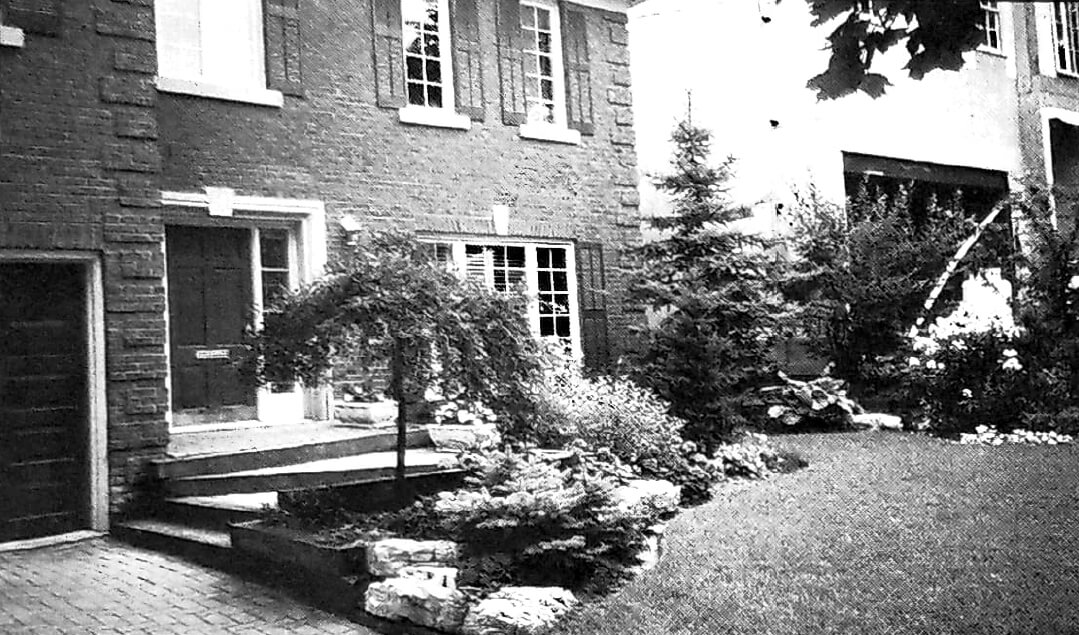 Green Thumb landscaping pride themselves on the high quality maintenance they provide, and will never sacrifice that quality by lowering their price to keep a customer.
---
Kathy is adamant in her refusal to compromise the quality service her customers receive by cutting prices in order to keep or acquire a client. If they are not willing to pay full value for the service her company provides, they are not customers of Green Thumb Landscaping. Over the years, several long-time customers have retained the maintenance services of a cut price company only to return to Green Thumb within a year or two after realizing the true quality and value of the work they were receiving.
The majority of Green Thumb's revenue comes from residential maintenance accounts. With client s from Stoney Creek to Toronto, the company has a broad base from which to work. With no plans to expand their market, Kathy explains there is still a great deal of business within their existing boundaries. Advertising efforts to win more business include door hangers, newsletters and a successful direct mail campaign that was aimed at specifically at upper income households.
One point Kathy is quick to make is that most of her business lessons have been learned the hard way. A case in point was the recession of the early 1980s. In her experience, the 80s recession was a great deal worse than the one we experienced most recently. "It was a frightening time, during which we learned most of our hard lessons," says Kathy. The company was scaled back to 8 employees and it was only sheer determination, not to fail that brought Green Thumb Landscaping out of the recession in one piece.
Another lesson not soon forgotten is on the subject of workplace safety. In 1980 after an employee suffered a serious accident. Green Thumb Landscaping was double assessed by Worker's Compensation Board. Fortunately the company was able to successfully appeal the assessment. but the importance of safe work habits and safety training have never diminished. The Farm Safety Association now conducts regular safety training seminars for Green Thumb employees as part of the company's commitment to a safe workplace.
While formal staff training is very expensive, Kathy believes it is cost effective. She is a firm believer in equipping her front line staff with the tools to better carry out their jobs. Every Tuesday morning the staff of Green Thumb meet for a training session. Each meeting focuses on a different topic — be it identifying white grubs, weed l.D. or equipment use. However the emphasis is always 'customer, customer, customer.' Says Kathy, "our maintenance staff are the ones meeting with clients on a day-to-day basis. They are our ambassadors. We empower them with a combination of technical and administrative knowledge, which ultimately benefits us."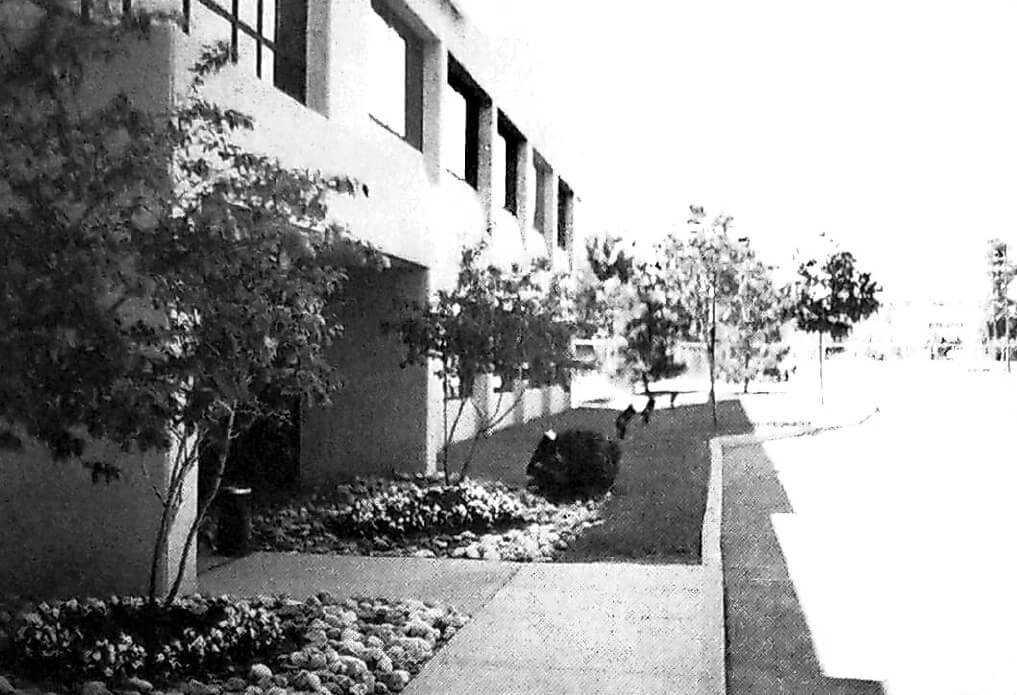 The majority of the maintenance work is done on residential properties whose owners are willing to pay for the level of service they receive. However, there are some corporations who feel their image is enhanced by the careful attention given by the Green Thumb crews.
---
Kathy also credits the staff training program with Green Thumb's improved employee retention record. She remembers that years ago she seemed to fill out endless T-4 slips for departing employees each year's end. But since investing in staff training, the turn-over among staff has dropped dramatically.
"My late husband used to compare hiring employees to recruiting a baseball team," Kathy smiles. "You have your key men and you need rookies. Using the philosophy that the key men are eventually going to move on, you need to recruit the 'rookies' yearly. Any temporary student employees start in their first year of university, we train them and rehire them during each summer holiday as they get their education."
In 1985, Kathy's career changed direction as she took a step back from the day-to-day running of the family business in order to start up a local Youth Employment Service. In addition to developing this much-needed program, over the next eight years she used her managerial and hard-won business strengths to start up two other Entrepreneurial Programs for local government. Because starting up these community programs required her full attention and energy, Kathy relinquished involvement in the daily operations of Green Thumb Landscaping. She was still a partner in the business however, and John actively consulted her on fundamental business decisions, philosophy and company goal setting.
Late in the summer of 1992, the company was running smoothly enough that John and Kathy were able to get away for a five-week vacation. They spent the time touring around the U.S. and discussed, at great length, the direction in which John wanted to take the business, including where he saw it positioned in the future.
One goal John had set for the company was to foster a more upscale image. He wanted to project the impression of quality and professional service his customers were used to receiving. Kathy says they began some initial consultation with a graphic artist in 1993, but John died suddenly before the redesigned logo was complete. He never did see the upscale corporate image he had envisioned.
While no one would wish to go through the wrenching ordeal Kathy Thomas had, it is possible to learn from her experience. "If I can give companies one piece of advice, it would be to make sure they have enough insurance in place," Kathy explains. "We had key man insurance and, so if nothing else, I knew we had a good cashflow." Having short term cashflow coverage was important because that was one item from a long list, that Kathy did not have to worry about in the aftermath of her husband's death.
After spending eight years at arm's Iength from the family business, Kathy was thrust immediately back into the position of company owner and operator. Apart from the challenge of picking up the pieces at home and work, she faced unforseen obstacles. Her late husband's operations manager quit the company unexpectedly. Green Thumb's client list went with him.
Since their father's death, Kathy's children have taken a more active role in the family business. Utilizing their respective talents, the family has spread out the responsibility of running the company. After graduating from an advertising and marketing program, Keri Thomas has taken over the promotion of Green Thumb Landscaping and writes several newsletters a year. She is also responsible for onsite training. Eight years of summer work experience prepared her well for the new responsibilities. Son-in-law, Todd Rainey is Operations Manager and oversees the maintenance operations as well as specific customer responsibilities in the western part of the service area. As company president, Kathy is the driving force be hind the thriving resurgence of Green Thumb Landscaping and is responsible for all maintenance accounts in Toronto. Melanie Girouard is the office manager and makes sure everything runs smoothly from the office in the basement of Kathy's north Burlington home.
For a few years after her husband's death, Kathy Thomas wasn't sure whether she did the right thing by keeping the family business running. However, in 1997 she is very sure. Her company is growing and her children work with her running the business she and their father started. "An unexpected bonus from this business," Kathy adds, "is the number of very good friends I have made who started as clients. Some of these clients and friends provided support during the tough process of putting her life and business back together. But with the sheer determination it took to pull Green Thumb Landscaping through two recessions, Kathy Thomas pulled her business through an even darker period and now faces a much brighter future.