October 16, 2017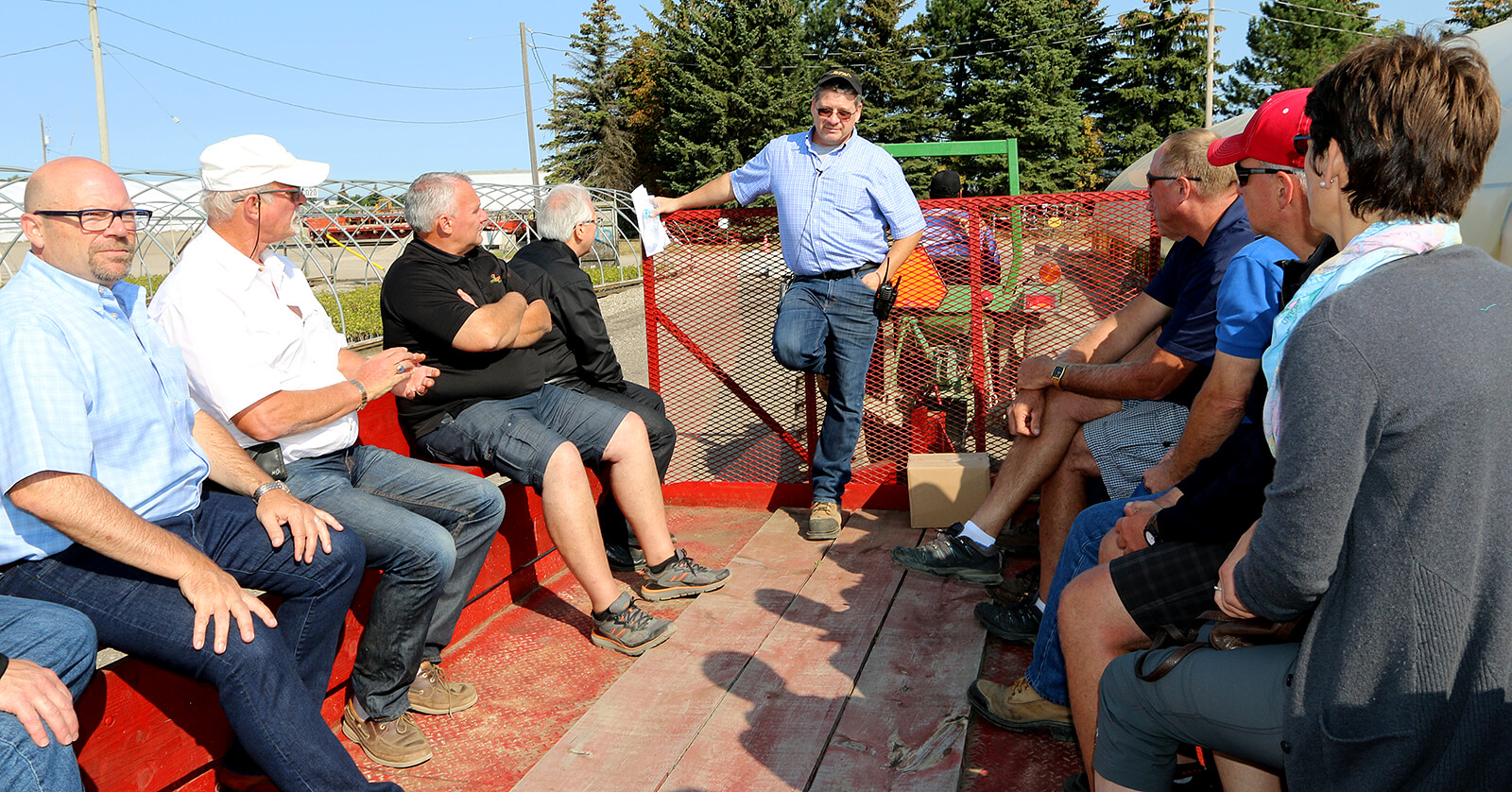 Growers hold successful Industry Auction
A fantastic host, great location, delicious food and gorgeous plants delighted participants of the 39th annual Industry Auction, held Sept. 12 at Brookdale Treeland Nurseries (BTN) in Schomberg, Ont.
Presented by the Landscape Ontario Growers Sector Group, the annual auction helps to raise money for horticultural research, scholarships and sector development and promotion. All plant material and items up for bid in both the live and silent auction were donated by growers and suppliers. This year, over 135 skids of plant material and silent auction items were auctioned off to the highest bidder.
The auction is also home to the LO Growers Awards of Excellence program, where LO members enter plant material into the various categories to be judged live, on site by experts from the landscape and horticulture profession. Organizers would like to thank this year's judges: Jennifer Llewellyn, OMAFRA; Perry Grobe, Grobe Nursery and Garden Centre; Len Mancini, Holland Park Garden Gallery; Jon Peter RBG; Jim Lounsbery, Vineland Nurseries; Glen Lumis, University of Guelph.
Winners in each category were presented with a certificate from Growers Group chair Jon Mantel prior to their entry being auctioned off to the highest bidder.
Once again, auctioneer Jim McCartney kept things light and moving along at a steady clip, with only a short break when the ice cream truck arrived.
To sweeten the pot, each time a bidder was successful, they received a ticket into a draw for an iPad Mini, donated by Plant Products. Harry Kamstra of Kamstra Landscaping was the lucky winner.
Landscape Ontario's Growers Sector Group would like to recognize the outstanding generosity of the many donors, without whom the event would not be possible: AVK Nursery Holding, Baker's Nursery, Braun Nursery, Canada Blooms, Canadale Nurseries, Gro-Bark (Ontario), Hillen Nursery, Kam's Growers Supply, Kobes Nurseries, Langendoen Nurseries, Millgrove Perennials, NVK Holdings, Parc Downsview Park c/o Arcturus Realty, Pieper Nurseries, Plant Products, Putzer (M) Hornby Nursery, Royal Botanical Gardens, Sheridan Nurseries, Somerville Nurseries, Timm Enterprises, V Kraus Nurseries, Valleybrook Gardens (ON), Willowbrook Nurseries, Winkelmolen Nursery.
A special thank you goes to all participants and to Brookdale Treeland Nurseries and their staff for the hard work in preparing to host the event and to ensure it ran smoothly.
Growers Group volunteers on-site included: John Moons, auction operations manager; Jeff Gregg; Jeanine West; Gerwin Bouman; Serge Leclair; Jennifer Llewellyn; Bill Putzer; Rob Naraj; John Mantel; Michael LaPorte; Jamie Aalbers and Glen Lumis.
---
MORE READING
See a list of winners of the 2017 Landscape Ontario Growers Awards of Excellence Program announced at the Industry Auction.