September 15, 2015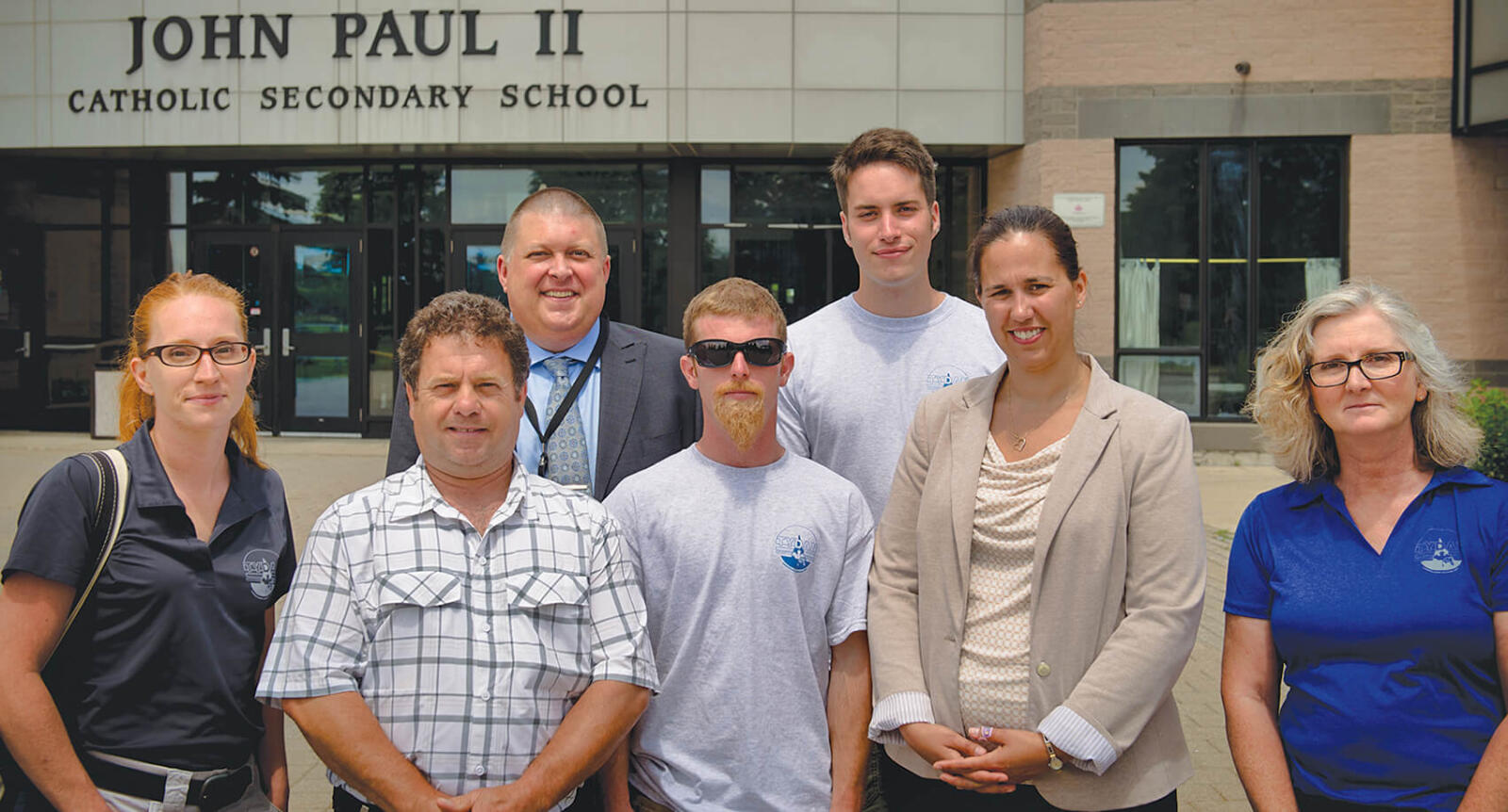 LO members and students create garden
By Stuart Service

Students at John Paul II (JPII) Catholic Secondary School in London will learn about growing, harvesting and cooking with fruits and vegetables in a new urban garden built by a collective of students, volunteers and business.

Jane Berardini, the school's public health nurse and a member of the garden's planning committee, said she looks forward to sharing future grains of wisdom within the community. She added that produce grown in the garden will be used in the school's hospitality program.

"If we have stuff growing in the garden, we'll harvest it and put it on the lunch tables," she said.

Plans for the urban garden near the front entrance of JPII originated from a $50,000 federal grant approved in 2014, which London's Tydan Landscape Design owner Paul Rancourt said was used up "rather quickly." Rancourt, whose company installed a rainwater harvesting system within the urban garden, estimates that Tydan donated about 200 hours of labour to ensure the completion of the project.

"The main reason why you want to do rainwater harvesting is of course to save money," Rancourt said. "Municipal water that comes out the tap is very expensive and you're not only paying for the water coming out of the tap, you're also paying for flushing the water down the sanitary system.

"The problem is that when you get torrential rains, all the water can't properly go into the manholes. The whole system becomes overloaded and then you start to get the sanitary system mixing with that water. And then it overflows and goes into our streams, rivers and lakes, which is causing a lot of pollution," he continued.

The garden was officially unveiled to the public on June 19. The grand opening also coincided with Garden Days, a Canada-wide celebration of gardens and gardening.

Also in attendance at the grand opening was London Mayor Matt Brown, who acknowledged the contributions by community organizations and Landscape Ontario members, including Permacon, Grand River Natural Stone, Aaroc Aggregates, Aquascape, MacKenzie Irrigation Services, Bobcat of London, Connon Nurseries/NVK and D & J Paton Brothers Landscape Supplies.

"On behalf of all of city council, let me just congratulate you on such an incredible project," Brown said. "This couldn't have happened if it was the school just working in isolation. This happened because of a huge community effort both from volunteers and private business."

Upkeep of the garden throughout the summer has been looked after by Denise Collins and her volunteer group North East London Community Engagement.