March 7, 2019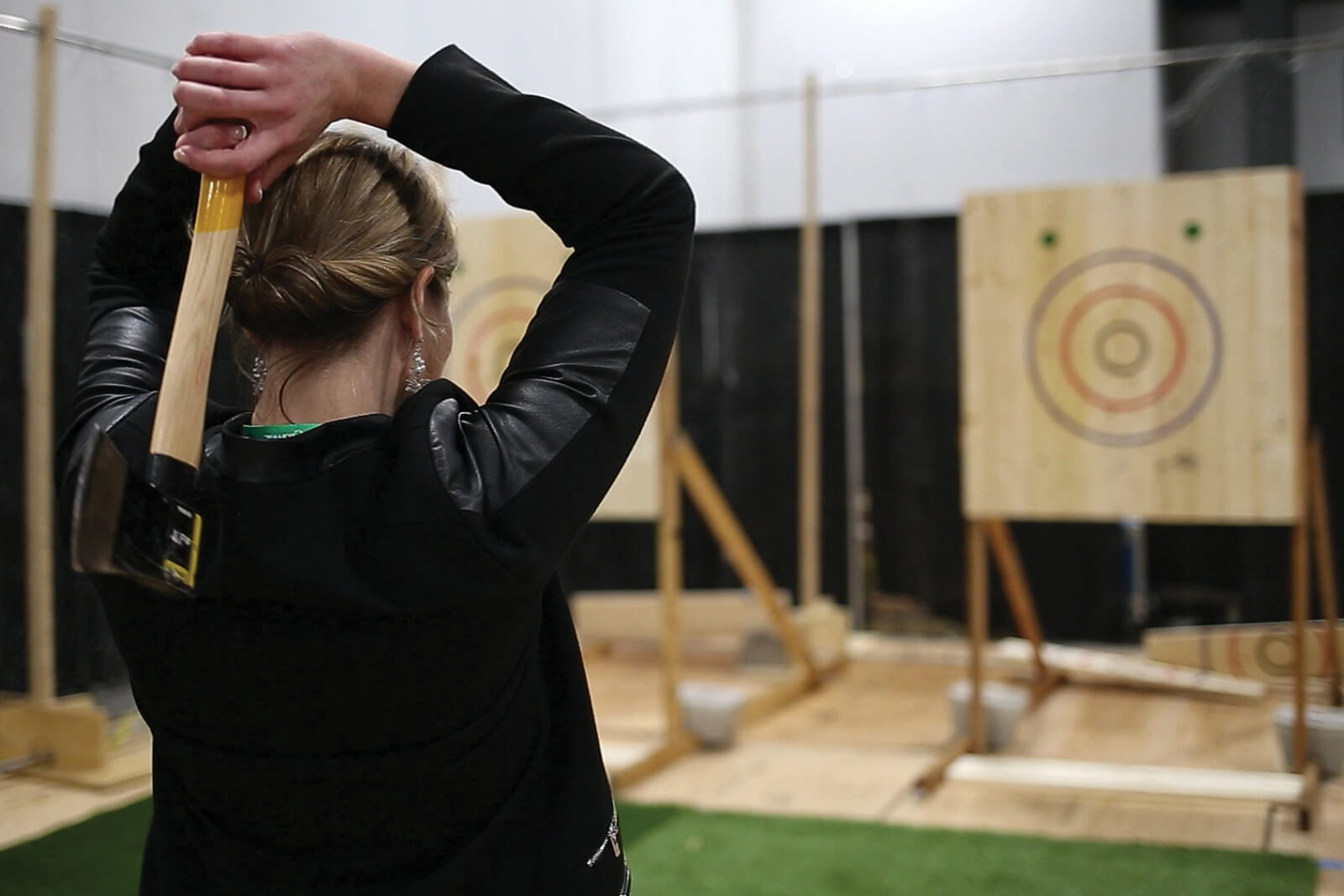 Ottawa Chapter's GreenTrade Expo offers many new experiences
Despite a record snow fall of 32 cm prior to show opening, Landscape Ontario's Ottawa Chapter celebrated the 26th annual GreenTrade Expo and Construction Show, Feb. 13, at the EY Centre in Ottawa.
Presented by Permacon, this year's event featured over 110 exhibitors, a full educational roster and a series of new contests and prizes available to all show attendees.
As the snow fell the evening prior on Feb. 12, over 150 landscape and horticulture professionals, suppliers and Ottawa Chapter members gathered at the EY Centre for the fifth annual Ottawa Chapter Awards of Distinction. Presented by Greely Sand & Gravel, the evening festivities began with a sumptuous buffet dinner that included a Big Red beer for each attendee, sponsored by Gifford Associates.
Returning co-hosts, Bruce Morton, GreenTrade Expo General Manager, and Ed Hansen, Ottawa Chapter Past-President, once again provided an entertaining evening while announcing winners of the various awards (
see sidebar for winners
).
GreenTrade Expo and Construction Show
GreenTrade
provides a timely venue for landscape pros and suppliers to gather and learn from each other every year. The 2019 edition was no different — with the annual MTO Contractor's Breakfast starting at 7:00 a.m. the morning of the show. Sponsored by
Manderley
Turf Products,
GoFor
, and B&T
MacFarlane
, Ministry of Transportation Ontario (MTO) officer, Peter
vanBeek
presented the latest regulations for commercial motor vehicle operations at the ticketed event for the many contractors in attendance.
Attendees to
GreenTrade
Expo were once again treated to complimentary admission and parking, courtesy of the Ottawa Chapter, and complimentary coffee, sponsored by
CityScape
and Bradley's Insurance. Building on the success of last year's special
25th
anniversary show, organizers included many new interactive events with prizes this year, including: Booth Bingo (sponsored by
Greenius
and participating booths), Plant ID Challenge (sponsored by NVK Holdings),
Hardscape
Challenge (sponsored by Oaks Landscape Products), and BATL Axe throwing competition (sponsored by
Geosynthetic
Systems).
All of these new contests included cash prizes for the top three competitors in each event. Student volunteers from the Algonquin College Horticulture Industries Program also had the chance to compete in each of the events for their own set of prizes.
Another new feature of
GreenTrade
Expo 2019 was the Ottawa Design Challenge. Led by Lindsey Best from Hansen Lawn and Garden, the design challenge paired design students from Algonquin College with groups of students from St. France Xavier High School to design an outdoor environment for the school. Four designs were produced and the best one will be chosen and built at the school for everyone in the community to enjoy.
A popular feature in 2018, the Charity Beer Tent, sponsored by
Greely
Sand & Gravel and Yates Custom Sprinklers, returned again this year to help raise money for The Ottawa Food Bank.
In addition to the many attractions on the show floor, the Business-Builder Educational Seminar Series ran from 9:00 a.m. to 1:00 p.m. and included a number of relevant topics and well-known presenters, including:
Cedrick
Bertrand, forester with the National Capital Commission; Joan Johnston, Peter
Knippel
Nursery; and Paul
Zammit
. Thanks to education sponsors: Petersen's Turf Farm,
Uxbridge
Nurseries,
GoMaterials
and
Hirsig
Landscapes.
A new lunch and learn seminar was also added to the education lineup this year, featuring Smart about Salt (SAS) council board member, Nichole
Ashton
. Presented by
SiteOne
Landscape Supply and
Tilson
Brands Jet Blue, all attendees were eligible for the grand prize of $10,000 of
JetBlue
Ice Fighter product. The winner was Lindsey Ross of Living Green Landscaping.
Although the major snow event that hit the area did put a damper on attendance for this year's show, the tremendous support from the attendees, the Ottawa Chapter Board of Directors, operations committee, volunteers from Algonquin College and members of the Ottawa Chapter made the day go smoothly and quickly. Organizers would like to thank Algonquin College student volunteers and their supervisor, Steve
Neumann
; volunteer coordinator, Melanie
Hoogeveen
; Chapter board member, Stephanie Leblanc; and
GreenTrade
Expo operations team members, Mary Stewart; Lindsey Ross and Stephanie Leblanc.
Thanks to
Canlok
Stone, show bag sponsor;
Greely
Sand & Gravel, show guide sponsor; and
Dutchmaster
Nurseries, lanyard sponsor. Show plants and plant ID were sponsored by NVK Holdings, and show bulbs were courtesy of Algonquin College Horticultural Studies. Show apparel for all volunteers was provided courtesy of The Sam Group. Show announcements and safety tips were sponsored and presented throughout the day by Workplace Safety and Prevention Services (WSPS).
Planning for the 2020 edition of
GreenTrade
Expo and Construction show, presented by the Ottawa Chapter, has already begun, to make the event even a bigger and better.
AWARD WINNERS