May 15, 2012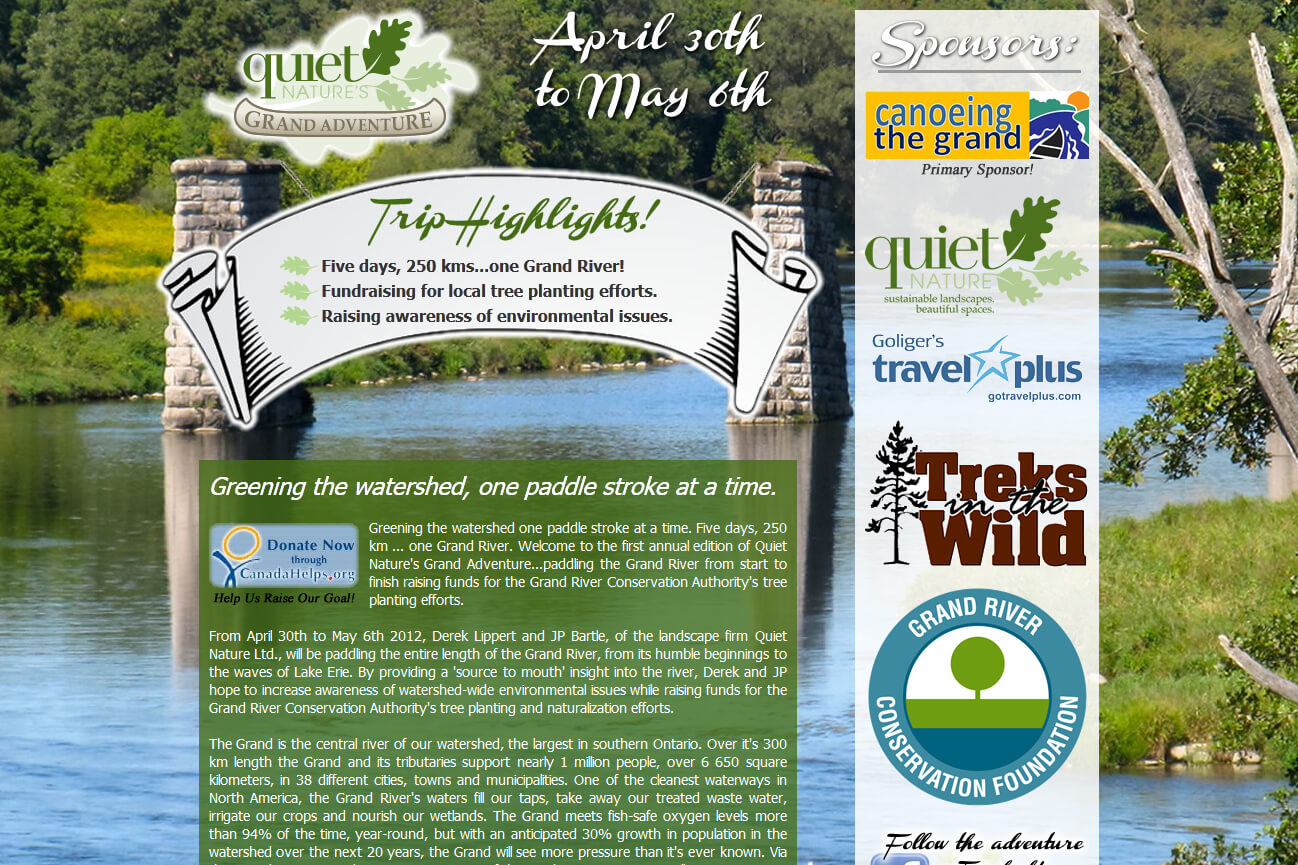 Landscaper's canoe trip to aid river's health
Derek Lippert CLP, owner of Quiet Nature of Ayr, agrees that it's crazy to paddle a canoe 250 km down the Grand River during the industry's busiest time of the year. "We couldn't resist," says Lippert.
It's all for a good cause. Lippert and his company's designer JP Bartle took time away from the landscaping business to raise a goal of $15,000 that will go to the Grand River Conservation Authority's tree planting efforts.
'Greening the Watershed One Paddle Stroke at a Time,' is Lippert's name for the first annual edition of Quiet Nature's Grand Adventure.
The pair put into the river on Apr. 30 and arrived on May 5 at the mouth of the waterway that empties into Lake Erie.
Raise awareness
The duo hopes to increase awareness of watershed-wide environmental issues while raising funds for the Grand River Conservation Authority's tree planting and naturalization efforts.
"Our goal is to raise awareness of the river's importance to us all," says Lippert. The Grand is the largest river in southern Ontario. Over its 300 km length, the Grand and its tributaries support nearly one-million people, over 6,650 square kilometres, in 38 different communities.
Lippert admits there were some selfish reasons for taking the trip. "Two of my key staff members were off on wonderful trips this past winter; one backpacking around Argentina and the other painting statues in Spain. Having a few more commitments than I did in the past, I am no longer afforded such travelling luxuries. I was, however, feeling a bit left out and thought it would be nice to work in a little mini-adventure come spring. That was the start of it."
Knowledge of river
A regular canoeist and backcountry camper, and having paddled good portions of the Grand over the years, Lippert thought it would be nice to do a two-day trip down the river in mid-spring. "The thought of a two-day trip turned into thinking about paddling the whole river, from Grand Valley to Lake Erie. I quickly figured this would take a minimum of five days; and, as the owner of a landscape company, taking off five days in mid-spring was more or less out of the picture. So, I figured that the only way I could justify a five-day adventure/holiday during the busiest part of our season was by doing some good in the process."
Educated in ecology, and owner of a company that focuses on sustainable landscape solutions and ecological restoration, Lippert says he thought he would use the trip as an opportunity to learn and share information about the environmental issues facing the Grand River watershed. "With that notion in mind, partnering with and raising funds for the Grand River Conservation Authority for its tree planting and outdoor educational efforts was a no-brainer, and a perfect fit," says Lippert.
Pledges can still be made online at
www.quietnature.ca/grandadventure
.
A Facebook page
www.facebook.com/quietnaturesgrandadventure
has photos and a journal from the journey.