April 15, 2013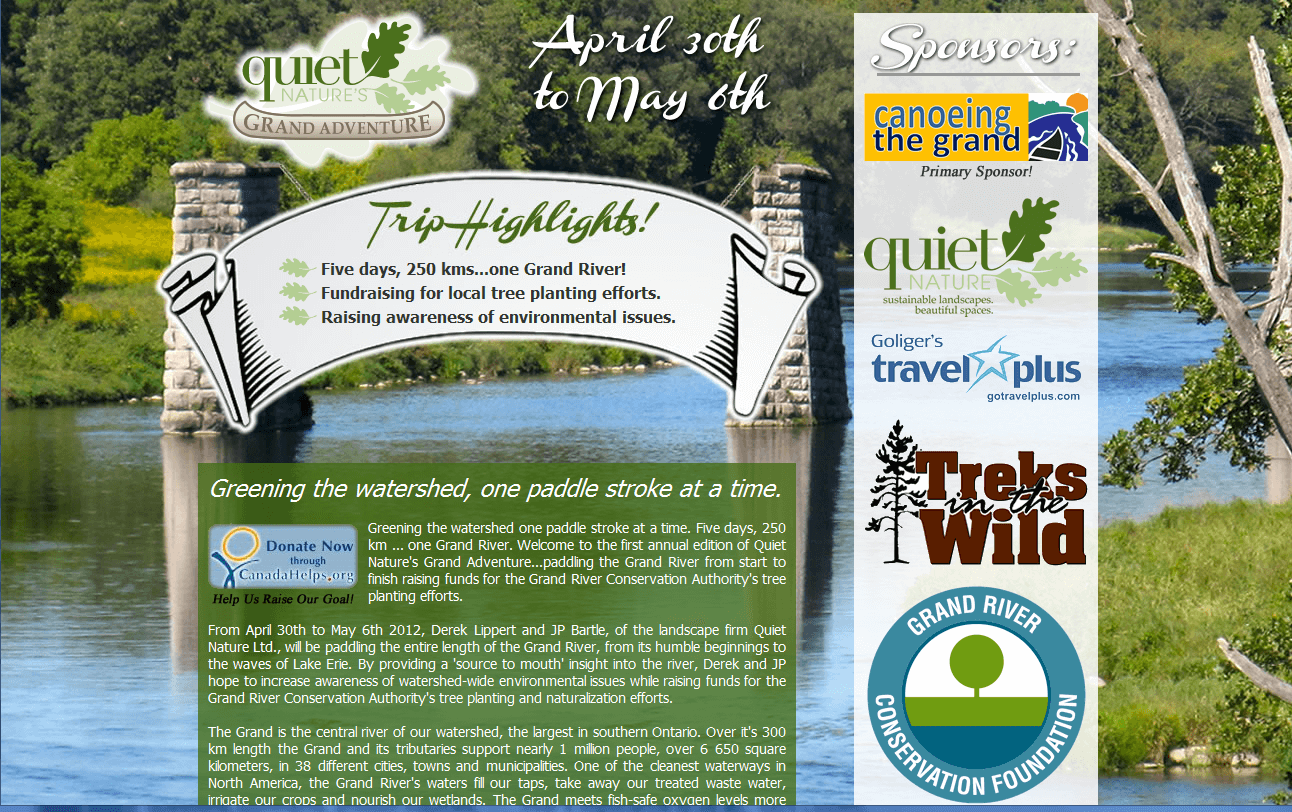 Landscapers plan second canoe trip to help river
Derek Lippert CLP, owner of Quiet Nature of Ayr, is taking on the challenge of canoeing the entire length of the Grand River, from its beginnings in Dufferin County to the shore of Lake Erie at Port Maitland.
The second annual fund-raising event will take place from Apr. 21 to 27. Lippert and his company's designer J.P. Bartle will join forces again to challenge the 250 km trip, just as the season begins to heat up. A member of Landscape Ontario, Quiet Nature is a landscape design, contracting, and maintenance/gardening company.
The duo hopes to raise $15,000 for the Grand River Conservation Authority's tree planting efforts, and to increase awareness of watershed-wide environmental issues and tourism potential.
"Our goal is to raise awareness of the river's importance to us all," says Lippert. The Grand is the largest river in southern Ontario. Over its 300 km length, the Grand and its tributaries support nearly one-million people, over 6,650 square kilometres, in 38 communities.
A regular canoeist and backcountry camper, the idea of a canoe trip to help the Grand River came to Lippert last year. Having canoed portions of the Grand over the years, he knew it would take a minimum of five days.
"As the owner of a landscape company, taking off five days in mid-spring was more or less out of the picture. I figured that the only way I could justify a five-day adventure/holiday during the busiest part of our season was by doing some good in the process."
Educated in ecology, and owner of a company that focuses on sustainable landscape solutions and ecological restoration, Lippert says the trip is an opportunity to learn and share information about the environmental issues facing the Grand River watershed.
Pledges can be made online at
www.quietnature.ca/grandadventure/
.
A Facebook page
www.facebook.com/quietnaturesgrandadventure
has photos and a journal from the journey.
Last year the two canoeists saw the Grand River change from a 20 ft. wide, rocky stream to a meandering miniature Mississippi. They posted a video of that journey at
www.grandriveradventure.com
.