June 11, 2013
Quercus muehlenbergii
Chinquapin Oak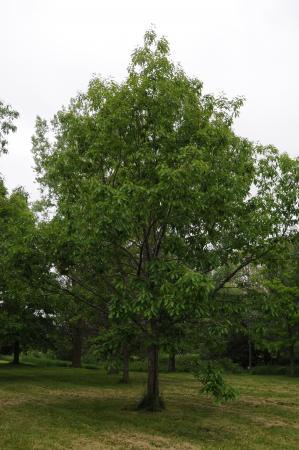 Description
The Chinquapin Oak is a large, open, attractive tree with lustrous, chestnut-like leaves, lovely fall colour and small, tasty acorns. It can accept the harshest of urban sites, especially those with high pH.
Usage
Shade tree, street tree, reclamation, parking lot island, buffer strip, highway.
Origin
Southwestern Ontario to the Thousand Islands; eastern and central USA
Hardiness zone
4
Size
10-17m urban, taller in wild.
Form/texture
Rounded, open crown with age; branches close to ground will remain.
Growth rate
Moderate when young, slowing with age, long-lived.
Leaf
Alternate, simple, coarsely toothed; yellow green, changing to yellow to orange-brown fall colour.
Flower
Inconspicuous.
Fruit
Small acorn, prized by many animals and birds. Large yields may contribute to litter.
Exposure/culture
Full sun, intolerant of shade.
Widely tolerant of many growing conditions such as high pH, drought, some deicing salt.
Sensitive to compaction and flooding.
May be difficult to transplant.
Few pests, diseases.
Comments
'

muehlenbergii

' honours a Pennsylvania minister and botanist (Jacobson).

Where bur oak is too large, chinquapin oak is a reasonable alternative. It ultimately doesn't achieve quite the grand proportions of its close relative. It reaches its greatest size on bottomlands but naturally found on dry rocky slopes, limestone outcrops and sand dunes.

Chinquapin oak is a very attractive tree with lustrous, chestnut-like leaves and small acorns that are favoured by birds as much as squirrels.

Propagation is easy with some acorns actually beginning to germinate while still on the tree. This eagerness to sprout is also a challenge as the seed must not be allowed to dry out and must be distributed and propagated quickly.

The limiting production factor seems to be root recovery post transplanting. Root promoting techniques during nursery production would improve transplantability.

"This oak is one of the least trouble-prone oaks" (Waldron).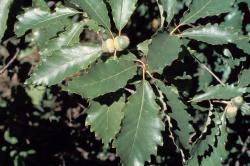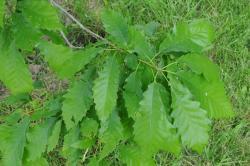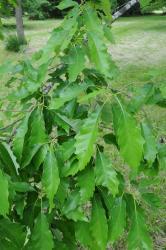 Reference:
Jacobson, A.L. 1996.
North American Landscape Trees
. Ten Speed Press, Berkely California. 722pp.
Waldron, G. 2003.
Trees of the Carolinian Forest
. The Boston Mills Press. Erin, Ontario. 275pp.