June 11, 2013
Ulmus americana
American elm, White elm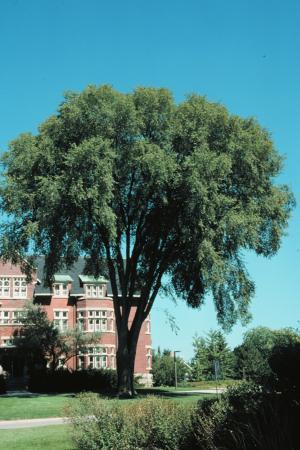 Description
Unmistakably elegant in shape, majestic when mature, the American elm is an exceptional tree for urban sites and will grow very rapidly even on the harshest of sites. Several resistant cultivars such as 'New Harmony' are proving to be moderately successful resisting Dutch Elm Disease.
Usage
Shade, street tree where maintenance budget includes monitoring.
Origin
Eastern and central North America
Hardiness zone
2
Size
26-40m high x 20-40 wide.
Form/texture
Upright vase.
Growth rate
Fast.
Leaf
Dark green, yellow fall colour.
Flower
Inconspicuous, spring.
Fruit
Disc shaped samara, matures in spring.
Exposure/culture
Naturally found on alluvial flats.
Shallow, wide spreading root system allows easy transplanting.
Tolerant of poor drainage, high pH.
Moderately tolerant to salt spray (Beckerman

et al

).
Comments
American elm will grow very rapidly even on the harshest of sites.
It's tolerance and the unmistakable shape of the mature elm shows it to be an exceptional tree for urban use. Elms are easily propagated, easily produced and easily transplanted.
Subject to several pests, diseases. Dutch Elm Disease (DED) remains a concern, but new cultivars such as 'New Harmony' show good resistance. Plant should be monitored for signs of disease.
Even though elms may eventually succumb to DED, their urban lifespan and ultimate size may be better than some of the current well-used species. There could be a role for elms as fast, good street trees with a 25-year replacement schedule.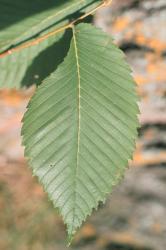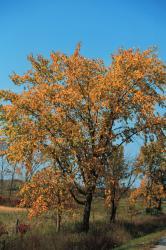 Reference:
Beckerman, J. and B.R. Lerner. 2009.
Salt Damage in Landscape Plants
. Purdue Extension Publication ID-412-W. Purdue University, West Lafayette, IN.